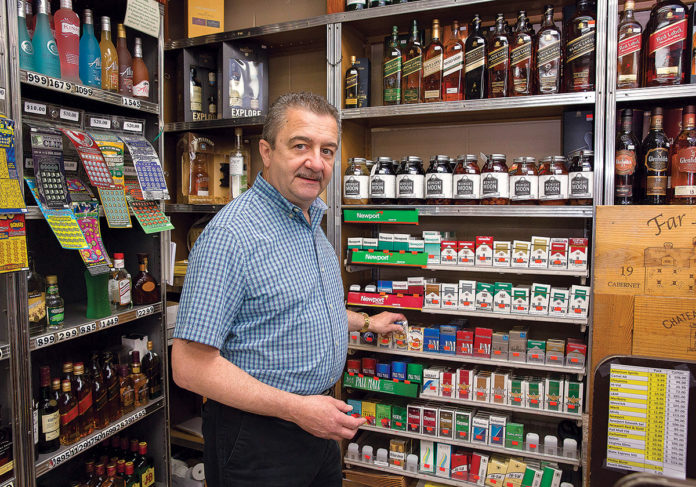 In the minds of many convenience-store owners, Rhode Island gave Massachusetts a gift in August when it increased the cigarette excise tax by 50 cents per pack.
The increased excise tax, of $4.25 a pack, is now second in the nation in terms of steepness, behind only New York. The state also authorized an increase in an inventory tax, called a floor tax, which adds 50 cents per pack to the inventory tax paid by retailers once a year.
State officials have estimated the new taxes will result in about $7.6 million in collections this fiscal year, all of it heading unrestricted to the state general fund. It was the only tax increased this year and which Gov. Gina M. Raimondo pointed out was not a broad-based increase.
But local business owners who sell cigarettes say the increase, given the steepness of it, will only encourage regular smokers to buy the product out of state. Neighboring Massachusetts has a tax of $3.51 per pack, adopted in 2013. In Connecticut, it's $3.90.
All of the other New England states have lower state taxes. New Hampshire, for example, has set its excise tax at $1.78.
Elliott Fishbein, owner of Town Wine & Spirits in East Providence, said most of his sales are in liquor and wine, but he sells cigarettes as a convenience to his customers. Did they notice the increased tax, which took effect Aug. 17? Yes, he said.
"They are brand-loyal, but many are beginning to trade down, looking for those moderately priced cigarettes," he said.
As a border store, near the Massachusetts line, he said the increased taxes over the years have cost him customers.
"They'll cross the line, absolutely," he said. "It's hurt us."
Retailers say consumers are price-conscious when it comes to cigarettes and gasoline. They will drive for miles in search of lower prices on either product, according to Jeff Lenard, vice president of strategic industry initiatives for the National Association of Convenience Stores.
"If you smoke, you know the range you think your pack should cost," he said. "If someone is outside of that range, you will not go back."
And when the small-shop owner loses the cigarette sale, they also lose the chips, soda and sandwich sales, Lenard said. The money is made for them not in cigarettes, but in the ancillary items that people pick up while they're in the store.
"Tobacco is like gas, it's not a high-margin commodity," Lenard said. "You make more money on a cup of coffee, a sandwich, something like that."
Fishbein said he's made a conscious effort over the years to cultivate a market in single-malt scotch and wine, and reduce his stock of cigarettes. He keeps selling them only because otherwise he might lose his regular customers, not because he makes a real profit on those sales.
"It's not even a portion," he said, when asked what portion of sales he attributed to cigarettes. "It's less than a half a percent at this point. It's something more for the customer. It's an accommodation."
Tom Saccoccia, who owns Sak's Centredale Liquor and Wine Cellar in North Providence, said the cost of a pack is now in the range of $8 to $11.50, which his customers have noticed.
It used to be customers would buy 10-pack cartons, but that's rare now when a carton would cost more than $100.
Like Fishbein, most of his sales are in beer and wine as a result.
'There's nothing illegal about going over the border to buy cigarettes.'
TOM SACCOCCIA, Sak's Centredale Liquor and Wine Cellar owner
The increasing taxes, he said, do nothing but deter further sales of cigarettes, when Massachusetts is so near to the Rhode Island border towns.
"There's nothing illegal about going over the border to buy cigarettes," he said.
And given the difference in state taxes, people can save up to $100 if they buy enough to last a month.
When states increase cigarette taxes, two things happen, according to Lenard. People who can will buy the cigarettes more cheaply elsewhere, and a black market emerges. Often, it's people who buy the cigarettes in bulk in less-expensive locations and then resell them.
"They're buying them legally in bulk quantities and reselling them illegally without the proper tax stamp in the new state," he said. "Let's say I'm in Virginia, where the tax is 30 cents. The people who resell them don't collect taxes. They also usually don't age-verify and they're usually affiliated with some criminal ­activity."
Many states presume increasing the tax will have a beneficial value in both reducing consumption of tobacco and increasing state revenue. "It's very difficult to have both of those things happen," Lenard said. "People will seek out low-tax alternatives."
Cigarette sales drive consumer traffic at convenience stores, where they make up about 38 percent of sales. Rhode Island has 509 convenience stores, according to Lenard.
But because there is such a low margin on these sales, the owners are turning to other items.
"The industry is moving toward food because of the low margins and challenges in selling tobacco and gas. But also, because times have changed," he said. "People increasingly think they are going to be able to buy food anywhere."