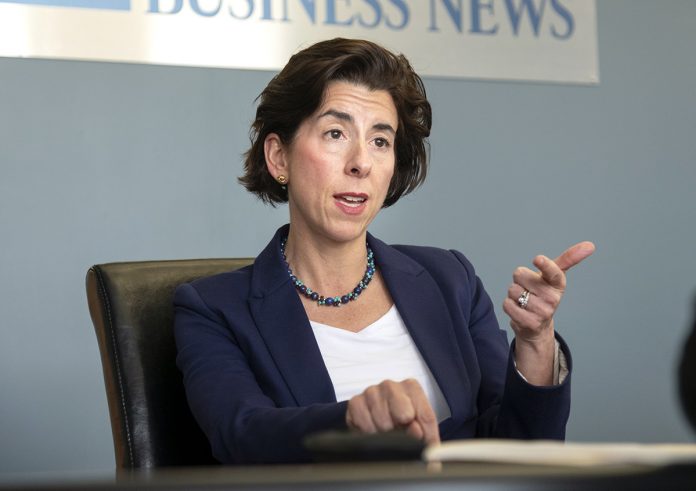 NORTH PROVIDENCE – Gov. Gina M. Raimondo and the R.I. Commerce Corp. announced more than $1 million in Main Street Rhode Island Streetscape Improvement Fund grants Friday for nine cities.
The grants are for improvements in commercial districts, with projects being eligible for up to $300,000. Applicants were required to have matching funds of at least 30 percent of the total project costs.
Pawtucket received the largest grant, the maximum $300,000, in this round of the Main Street grants to enhance access to the Dexter Street commercial corridor, to "improve the city's link to Broad Street" and the upcoming train station.
"Small businesses are the backbone of our economy, and they often find their home in Main Streets across Rhode Island," said Raimondo in a statement. "By investing in our Main Streets and making them more attractive places to spend time and money, we're supporting our local economies. We've seen great success in cities and towns that have received previous rounds of funding through this program, and I can't wait to see the improvements from these new projects."
This round of grants went to Barrington, East Providence, New Shoreham, North Providence, Pawtucket, Providence, Warren, Westerly and Woonsocket. It was the third round of grants from the Main Street Improvement Fund, bringing the program up to 25 grants at a total of $3 million.
The projects to be funded are as follows:
Pawtucket – $300,000: To enhance access to the Dexter Street's commercial corridor, improving the city's link to Broad Street and the forthcoming Pawtucket train station. The project includes measures to increase pedestrian and bicycle safety as well as to provide green infrastructure and shade
Westerly – $233,000: To upgrade the building façade for the Ocean Community United Theatre
North Providence – $150,000: To revive the corridor along Route 44 within Centredale Village with greenery that will help foster foot traffic to small businesses
Woonsocket – $80,000: To create waterfront access in the Market Square area in an effort to expand open space directly on the river that will allow for installation of a boat dock to be used as a landing site for the river cruise tour boat Explorer, a 40-passenger tour boat that provides educational tours of the Blackstone River every summer
East Providence – $69,969: To place flags, banners, wayfinding signs, landscaping, and public art and design elements along a four-block portion of Bullocks Point Avenue and the East Bay Bike Path to increase traffic and business to small businesses in the area
Warren – $59,500: To assist in the goal of establishing an arts and cultural trail that will lead residents and visitors from the East Bay Bike Path to Main, Market and Water streets. Improvements will include bike path information, edifying signposts and hardscape improvements such as bike racks, benches and bollards
Barrington – $58,450: To order and install eight vehicular wayfinding signs and six wayfinding signs in the "Village Center" section of the East Bay Bike Path for pedestrians and cyclists
Providence -$47,114: For storefront improvements on Broad Street, including removal and replacement of existing awnings, lighting, doors, windows and entrance signage
New Shoreham – $39,935: To add improvements to Nicholas Ball Park, including enhancing safety and wayfinding, facilitating traffic flow and enriching the experience of the downtown village district