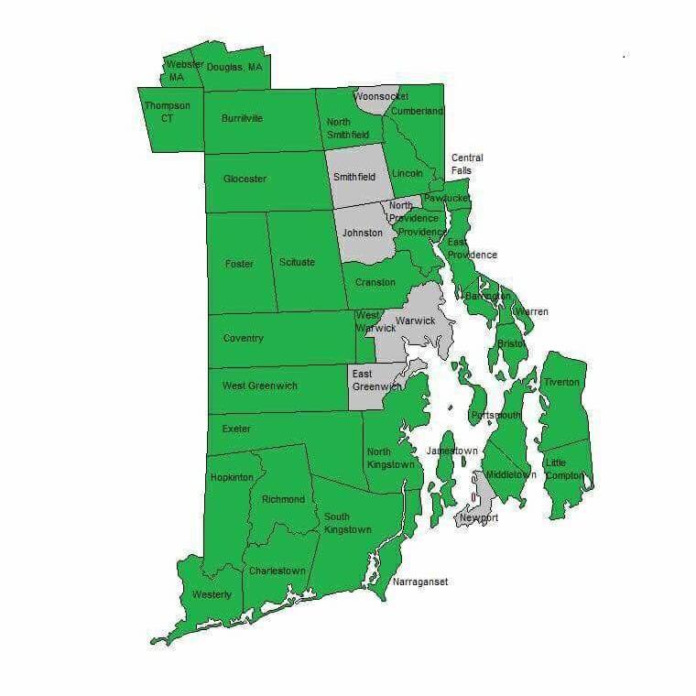 PROVIDENCE – Nearly all Rhode Island municipalities are calling on Gov. Gina M. Raimondo to become more involved in the debate of a proposed gas-fired power plant in Burrillville.
On Thursday, Burrillville released a Nov. 16 letter addressed to Raimondo detailing a loss of trust in the regulatory process that determines whether to allow the proposed 1,000-megawatt power plant.
The letter was sent on behalf of 32 Rhode Island municipalities.
"You told us to 'trust the process,' " Burrillville Town Council President John F. Pacheco III wrote to Raimondo. "That is becoming more and more difficult."
The project, dubbed the Clear River Energy Center, was first proposed by Invenergy Thermal Development LLC more than two years ago.
At the outset, Raimondo largely supported the project, saying it would generate cheap electricity for ratepayers and help create jobs.
The natural gas-fired power plant, however, has since become one of the state's most debated energy issues. And while the Raimondo administration has largely continued to support the need for the project, the governor has been wary to offer any strong opinions.
Raimondo could not be immediately reached for comment.
The concerned cities and towns have all submitted resolutions of opposition to the power plant with the R.I. Energy Facility Siting Board, a three-member regulatory panel responsible for deciding the fate of the power plant.
Douglas and Webster, Mass., along with Thompson, Conn., which neighbor Burrillville, have also expressed opposition to the project.
After garnering little traction with the regulators, however, the Rhode Island municipalities decided to call on the governor for support.
"We respectfully ask that you stand with us in urging the EFSB to fully consider the opposition resolutions," Pacheco wrote.
The Rhode Island municipalities – in the Nov. 16 letter – invited Raimondo to attend two public meetings held this week on the issue. After failing to show up for either, however, the group decided to take the matter public, and released both the letter and a press release detailing an ongoing lack of involvement from the governor.
"Despite invitations from Pacheco, the governor has not attended a meeting in Burrillville in well over a year," according to the release. "These hearings were the last opportunity for the governor to directly engage public comment on the proposal."
Final hearings for the proposed project, already repeatedly delayed, are scheduled for March at the earliest.
­Eli Sherman is a PBN staff writer. Email him at Sherman@PBN.com, or follow him on Twitter @Eli_Sherman.