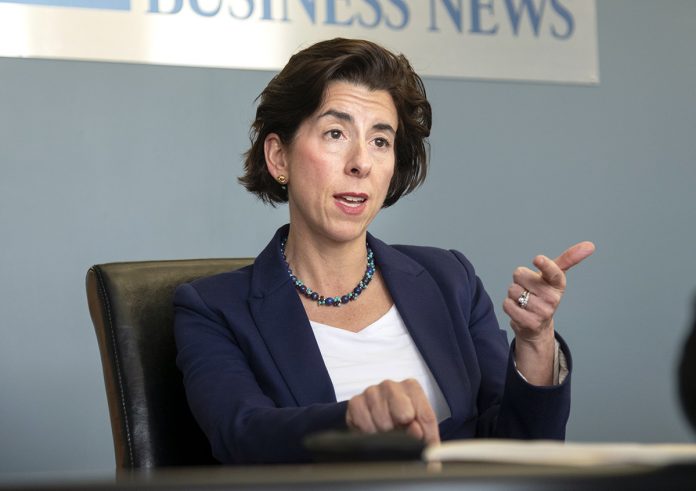 PROVIDENCE – Gov. Gina M. Raimondo signed an executive order Thursday that created a statewide Government Efficiency Commission that will make recommendations to cut government costs and to streamline government operations.
The commission will be chaired by R.I. Department of Administration Director Michael DiBiase.
The commission will be responsible for finding at least $10 million in savings, the governor's office said, which must also enhance and streamline government.
The recommendations will include real estate and programmatic "rightsizing." The executive order begins acknowledging that many state buildings are more than 75 years old and have "significant deferred maintenance with outdated workspaces that are not consistent with current needs."
The commission will be required to convene at least four public forums during the months of March and April to solicit input. A final report will be delivered to the governor by May 3.
The commission will dissolve at the end of the 2019 legislative session, unless extended.
The commission will consist of nine members from the public and private sectors, as well as an outside real estate consultant and staff employed by the R.I. Office of Management and Budget and other agencies.
Members of the commission include:
Michael DiBiase, director, R.I. Department of Administration
Jonathan Womer, director, R.I. Office of Management and Budget
Cynthia J. Butler, president, Butler & Associates Human Resources Consulting; RI Society of Human Resources Management
Anthony Silva, chief of staff, Office of Lt. Gov. Dan McKee
Maureen Martin, secretary-treasurer, Rhode Island AFL-CIO
Michael Knipper, executive vice president, property and procurement, Citizens Bank
Brian Daniels, executive director, Rhode Island League of Cities and Towns
Christina Pitney, vice president, strategy & strategic partnerships, Blue Cross & Blue Shield of Rhode Island
John Simmons, executive director, Rhode Island Public Expenditure Council