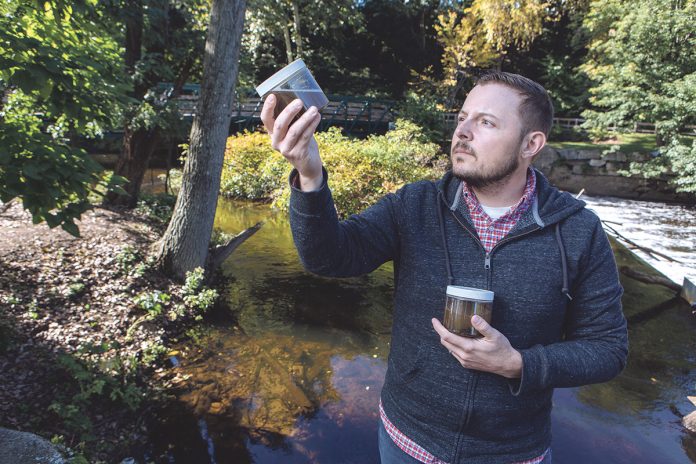 In three years, seven Rhode Island cities and towns have begun banning single-use plastic bags – the ones distributed by grocery stores that often end up lining freeways, coastal walkways and, especially, bodies of water.
Four of those bans took effect in 2018. Two more begin bans on Jan. 1, raising the statewide total to nine.
Leveraging local efforts by Barrington, Newport, Middletown, Jamestown, Portsmouth, Bristol, New Shoreham, South Kingstown and North Kingstown, the prevention of ocean-based plastic pollution is such a priority to Rhode Islanders, in July Gov. Gina M. Raimondo announced a new working group to address the issue.
The Task Force to Tackle Plastics is designed to create a statewide conversation, from environmental organizations to manufacturers and the hospitality industry.
Johnathan Berard, state director of the Providence office of the nationwide Clean Water Action nonprofit, knows its impact all too well.
In his advocacy work, Berard totes jars of water with visible plastic pollutants gathered from Narragansett Bay to the Statehouse, elected officials' offices, almost anywhere, as evidence of the impact on local natural resources.
Yes, ocean-based plastic pollution is a global issue, he argues, but there is also work to be done at home.
In October, Berard and Dale Venturini, president and CEO of the Rhode Island Hospitality Association, were named co-chairs of the Task Force to Tackle Plastics. Creation of the body, said Berard, is "long overdue."
Recognizing each separate plastic product "poses [a] different problem," Berard said he would like to see manufacturers, producers and distributers become more involved in the cleanup.
"There is a lack of responsibility by manufacturers and brand owners once [plastics] get past the point of profit," he said.
At the end of the product's life, added Berard, "The social and economic costs of dealing with these products … falls to the consumer and the municipality."
The Task Force to Tackle Plastics, said Berard, is an opportunity for representatives from multiple industries to "be part of the solution."
In addition to educating the consumer and the producer, Berard said much of the efforts will be legislative, including a possible plastic-bag and bottle deposit.
Berard hopes the existence of the Task Force to Tackle Plastics will ensure "the state will walk the talk" in taking seriously its recommendations. He added that subgroup discussions will focus on the reduction of single-use plastics in state offices, state procurement policies and state vendor contracts.
When it comes to identifying the source of many single-use plastics, said Berard, "Small businesses can be vilified."
Enter co-chair Venturini, whose relationship with local hospitality businesses will help spread the word about curtailing reliance and sharing company concerns.
Of the initial meeting, which took place Oct. 5, Venturini said, "This is a conversation to get everyone at the table, talk about what is realistic … and not hurt one segment" of the chain.
After Barrington, Newport was the second Rhode Island municipality to ban single-use plastic bags, effective Nov. 1, 2017.
A year later, Newport Mayor Henry F. Winthrop said, "Quite honestly, everybody got on board" easily. Surprised, and expecting "quite a bit of backlash," Winthrop said the issue was a geographical priority for the City by the Sea.
'It only makes sense for the Ocean State to be a leader in environmental stewardship.'
DAVE MCLAUGHLIN, Clean Ocean Access executive director
"We're surrounded by water," he said, making ocean-based plastics pollution a particular threat.
If you look at the communities that have taken active steps on the issue, said Dave McLaughlin, Clean Ocean Access executive director, "They're all located near the water."
McLaughlin, a member of the task force, said the Middletown nonprofit has focused on cleanup, recording and prevention of "marine debris" due to, among many factors, single-use plastics for more than 12 years. And, in the frequent shoreline cleanups they've hosted, he said, "The amount of litter in the ocean, if it's not staying the same it's increasing.
"We are blessed with the opportunity to have this connection to the ocean, but it comes with an immense responsibility," he said. "It only makes sense for the Ocean State to be a leader in environmental stewardship."
After more than a decade of advocacy, McLaughlin said he feels "excited to be part of moving the conversation from reactive cleanup to proactive policy."
However, he refrains from pointing fingers or laying fault at the feet of anyone in particular. Citing the normality today of bringing reusable grocery bags, he said, the movement away from single-use plastics is "about educating the consumer to make more-sustainable [choices]."
While he applauds the actions taken by the nine communities, he hopes the Task Force to Tackle Plastics has a longer-term, statewide impact than the piecemeal policies in place currently.
A "uniform and consistent" plastic-bag ban across Rhode Island, he said, "would be fair and reasonable."
Emily Gowdey-Backus is a staff writer for PBN. You can follow her on Twitter @FlashGowdey or contact her via email, Gowdey-backus@PBN.com.

Want to share this story? Click Here to purchase a link that allows anyone to read it on any device whether or not they are a subscriber.