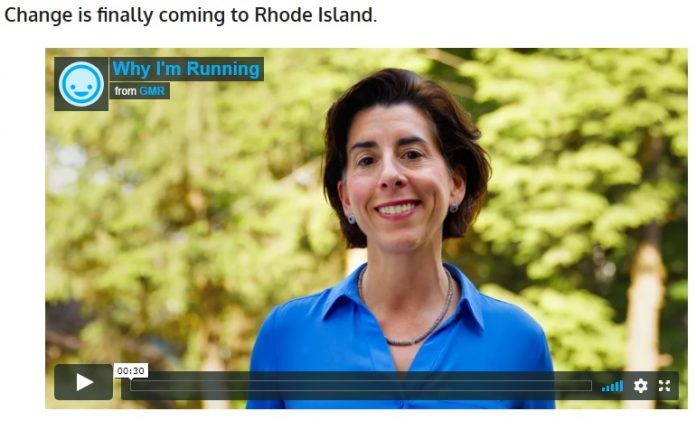 PROVIDENCE – In a 30-second video posted Tuesday afternoon, Gov. Gina M. Raimondo announced that she is running for re-election as the governor of Rhode Island.
Making reference to Business Insider's ranking of the best state economies, which moved Rhode Island up to No. 9 in the nation a year after the digital publication said the Ocean State had the 33rd-best economy among the 50 states and the District of Columbia, Raimondo said in the video that "Rhode Islanders … are rolling up our sleeves and getting back to work."
In text accompanying the video entitled "Why I'm running," Raimondo makes reference to the state having had the highest unemployment rate in the nation four years ago, in comparison to what she characterized as "major investments in our children's education, our workers' training, and our roads and bridges" going on today.
The announcement, which stated that "Rhode Island is once again becoming a state where everyone can get ahead and have a good life," presented Raimondo as both a change agent – the headline directly above the video is "Change is finally coming to Rhode Island" – and the person needed to "finish the job we started together."
The announcement video, as well as a collection of Raimondo's positions on a variety of issues, was posted on ginaraimondo.com.