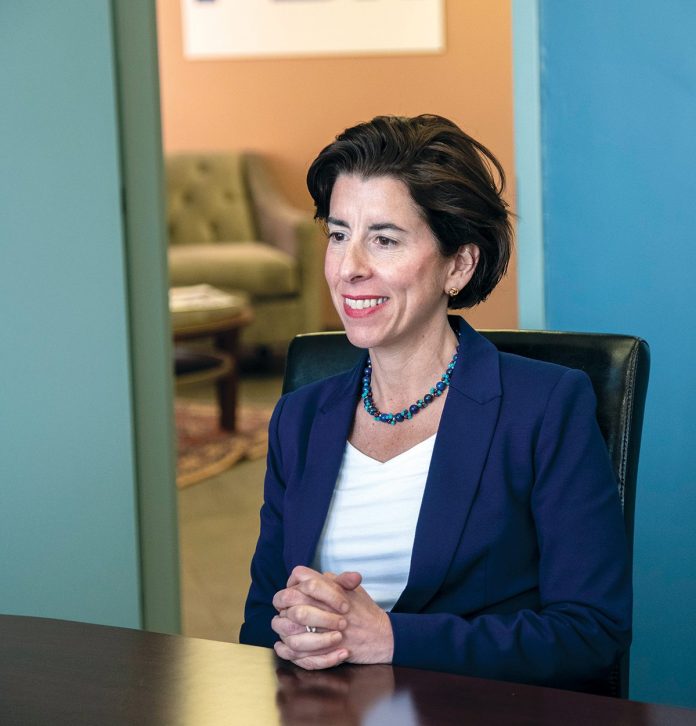 PROVIDENCE – Gov. Gina M. Raimondo announced an initiative to modernize and increase investment into the state's parks and beaches Monday.
The governor cited a study commissioned by the R.I. Department of Environmental Management released in January, which found the need for an increase in spending to modernize and improve the Rhode Island park system.
The system encompasses 8,200 acres of parkland – out of a state total of 775,900 acres – consisting of 400 miles of hiking and biking trails; 25 parks, management areas and nature preserves; and eight saltwater beaches.
The 112-page report was developed with the help of two private firms. It also recommended that the DEM establish new pricing and fee-setting policies for special events, site rentals and special uses based on market value, cost of service and classification of service.
"Our beaches and parks are such a special part of who we are as Rhode Islanders, and we need to preserve them for future generations," stated Raimondo. "The study DEM commissioned recently makes clear that we're not doing enough now. It's critical that we commit to long-term investments in our parks and beaches. Let's make sure our kids have the same opportunities that we did."
Raimondo included $1.5 million in her proposed budget to increase funding for the DEM's Division of Parks and Recreation. The funding would support an additional eight employees, primarily focused on the improvement of the parks' visitor experience.
The governor also noted that her budget proposal includes a business development office to seek out revenue-generating opportunities such as sponsorships and concession partnerships. As it is, the report calculated the parks add $315 million to the state's economy per year, generate almost $40 million in state and local taxes, and support roughly 4,000 jobs.
The governor cited budget staff cuts over many years at the Division of Parks and Recreation amid increased visitor traffic as the impetus for the initiative.
As part of the modernization and preservation efforts, the DEM is holding four listening sessions to solicit ideas on how to improve the parks system, although none of the sessions have been scheduled to take place in Providence.
Wednesday, Feb. 20, from 4-5 p.m., at the Westerly Town Hall Council Chambers located at 45 Broad St., Westerly
Monday, Feb. 25, from 4-5 p.m., at Lincoln Woods Nature Center in Lincoln Woods State Park, Lincoln
Thursday, Feb. 28, from 6-7 p.m., at the Narragansett Community Center located at 53 Mumford Road, Narragansett
The DEM said that the fourth session will be held in Bristol, with details to be announced at a later date.
"The Governor's Parks Initiative will ensure that we invest in these incredible places that do so much for Rhode Islanders and for our economy," said DEM Director Janet Coit. "This is a tremendous multiyear effort … to realize the opportunities afforded by this magnificent system."