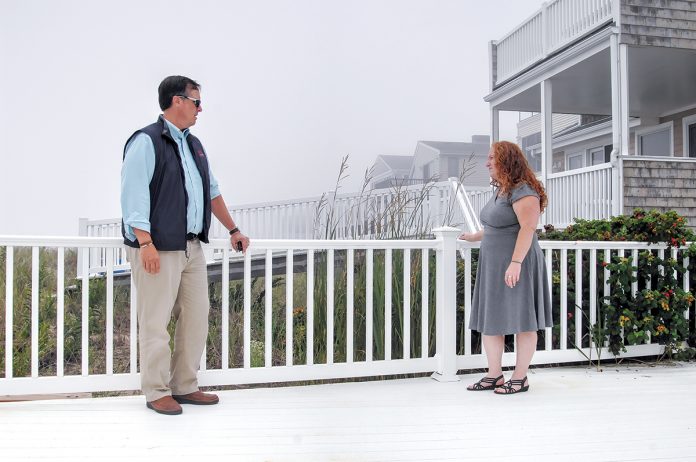 The flood-insurance market for Rhode Island has opened up in recent years, with more private options now available. But before businesses and homeowners try to switch from the national flood-insurance program, and secure a lower rate, agents offer some cautionary advice.
For starters, there is no way really to lock in a rate. The federal program updates annually, with revised costs for policyholders. And where private insurance is available, it can carry strings.
The private insurance can cost less than federal, and that's tempting, said Howard Thorp, president of Thorp & Trainer Insurance Agency in Westerly. But should the insurance carrier ever pull out of Rhode Island, policyholders who are not renewed will be sent back to the federal flood-insurance program.
And at that point, they lose any rate reduction they held through seniority, he noted.
"You'll see this marketing out there: 'We can save you a lot of money on flood insurance.' Well, wait a minute," he said.
Unlike the national flood program, private insurers who issue flood insurance don't have to cover properties at greatest risk – those in a velocity zone typically along the ocean. The carriers do not have to remain in a state. And they can reject a property for a renewal if it ever has a flooding event, Thorp said.
"People can't just assume that if they pay big bucks with a national flood-insurance carrier that they're going to be able to go to a private carrier," Thorp said.
"People with oceanfront, for instance, that are subject to wave-wash velocity, who are right on the frontline, the private flood [carrier] for the most part, from what we've seen, isn't looking to 'right' that business," he said.
'Most of the commercial people only buy it if the bank requires it.'
DEBBIE ZINCK, Soucy Insurance Agency office manager
In Rhode Island, private carriers often provide insurance for inland properties, or those with less-strict flood zones. And for those properties with less risk, private flood insurance can represent a savings.
The savings in private flood insurance can be substantial, said Joseph Luca, president of the Rhode Island Association of Realtors. In the Ocean State, flood insurance is an issue for many property transactions. Nationally, 40,000 properties a month are closed that involve flood insurance.
"It's my understanding there are more companies that are providing it," he said of private insurance in Rhode Island. "Generally speaking, the private sector can provide this insurance more cost effectively than the public sector. You can save $1,000 a year or more on your flood insurance."
Realtors should tell their clients that they have options in flood insurance in Rhode Island, and then direct them to an insurance agent for more evaluation. Clients should be advised to look into the federal program, as well as private programs, when they talk with their insurance agents.
Many people are unaware that private insurance is an option, he said. If buyers work with a Realtor, the agent will point this out to them. Buyers need their own agent for this reason, he said. Sometimes a seller doesn't have flood insurance because they paid off the mortgage.
Media coverage of climate change and increasing storm intensity has made property owners more aware of the issues, and at Soucy Insurance Agency, in Woonsocket, people regularly call agents to try to determine if they need the insurance, or if they can get a more-affordable policy, said Debbie Zinck, office manager.
Because of its inland location, the office has a relatively small proportion of policyholders with flood insurance, she said. The region's flood zones are the less-intensive ones. More residential owners than commercial owners are interested in it. "Most of the commercial people only buy it if the bank requires it," she said. "The homeowners are more likely to buy the insurance. The homeowner is looking at it as, 'This is my life investment here.' "
At Thorp & Trainer, policies that are due for renewal are automatically reviewed by agents to determine if it makes financial sense for the homeowner or business owner to stay with the national program, Thorp said.
Sarah Lassor, a commercial lines account manager, and the agency's expert on flood insurance, said the rules are complicated enough that property owners should confer with an agent, and make sure they understand the costs and benefits of a change in policy.
Because the Congress voted to extend the flood-insurance program only until late November – after the end of hurricane season – changes that had been proposed to stabilize the national program have not been approved.
Proposals would have required the U.S. Federal Housing Administration, and all private banks, to accept private flood insurance, and would have treated private insurance as acceptable prior insurance for anyone moving to a national policy, according to Thorp.
"With the [national flood-insurance program] being so unknown right now, and it keeps getting kicked down the road … people are listening to the news and then calling us and asking, 'What's going on?' " Lassor said.
Mary MacDonald is a staff writer for the PBN. Contact her at Macdonald@PBN.com.