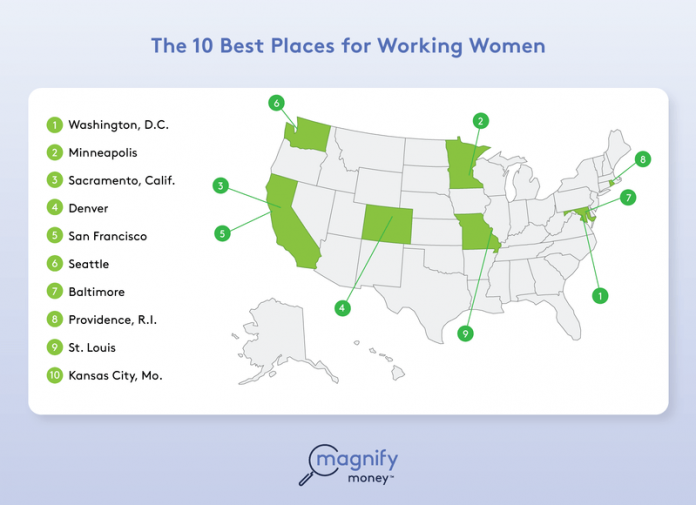 PROVIDENCE – Magnify Money ranked the Providence metro area the eighth-best metro for working women in the country this month.
The report compared the 50 largest metropolitan areas in the nation on eight metrics: women's unemployment, the percentage of women-owned businesses in the area, the percentage of managers who are women in a metro area, the percentage of median earnings gender gap, the percentage of women who have employer-based insurance, the percent of median earnings to pay for day care, the percentage of legislators in a metro area's state who are women, and a parental and pregnancy workplace state protection score.
The personal finance website said that Providence ranked No. 5 among the metros for the percentage of women as managers at 42.8 percent. It also noted that of all legislators in the state, 31 percent were women, which ranked No. 12 for the highest percentage for host states for cities included in the study.
Providence was also noted to have ranked in the top 10 metro areas for its legal protections for expectant parents and those with day care-aged children, ranking No. 9 in the study with the third highest score.
The Providence metro ranked less well for the cost of day care, which was found to be 25.3 percent of the median earnings in the area, the 10th-highest cost of metros in the study. The city also ranked No. 29 in the study for its rate of businesses owned by women, which was 30.8 percent. The metro area also did not fair well for its gender wage gap, which the report said was No. 33 in the nation for largest gap. Women were found to earn 19.9 percent less than men in the area.
The women's unemployment rate in the area was reported to be 5.2 percent.
Washington, D.C., ranked No. 1 in the nation in the study while Detroit ranked last at No. 50. Hartford, Conn., came in at No. 16 on the list, while Boston ranked No. 27.
The report used data from the U.S. Census Bureau, among other sources. More information can be found at Magnify Money's website.
Chris Bergenheim is the PBN web editor.