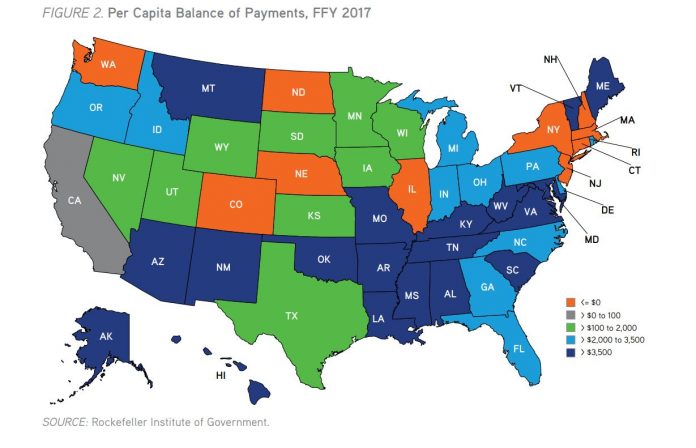 PROVIDENCE – Rhode Island received 1.23 times more in federal dollars than its residents and businesses paid in federal taxes in fiscal year 2017, according to a report from the Rockefeller Institute of Government released this week.
The report said Rhode Island paid a combined $10.2 billion in federal taxes. This includes personal income tax, employment taxes, corporate income tax and excise taxes. Rhode Island received a combined $12.6 billion in direct payments to individuals, including Social Security and Medicare, etc.; federal grants; contractual and procurement spending; and wages and salaries of federal workers.
Rhode Island's balance of payments, $2.4 billion, ranked as the No. 35 highest in the nation and second highest in New England, only behind Maine at No. 25 in the United States. Vermont ranked one spot behind Rhode Island at No. 36 with a $2.3 billion payment balance. The three other New England states ran payment balance deficits.
New Hampshire ranked No. 41 in the nation with a $314 million deficit, Connecticut ranked No. 47 with a $14.4 billion deficit and Massachusetts ranked No. 48 with a $16.1 billion deficit, only ahead of New Jersey and New York.
Virginia had the highest balance of federal expenditures to federal receipts in the nation with a balance of $87.3 billion. Kentucky was said to have the largest ratio of expenditures to receipts, with 2.35 times more expenditures to the state than paid tax dollars to the federal government. Virginia was noted to have such a high balance due to a high concentration of federal employees.
Forty states had a positive balance of federal expenditures compared to federal receipts in fiscal 2017. The report noted that states with a negative balance tended to have higher proportions of high-income earners, driving up personal income payments.
Per capita, Rhode Island's expenditure to receipt balance was $2,228, the No. 29 highest in the nation and third highest in New England.
Chris Bergenheim is the PBN web editor. Email him at Bergenheim@PBN.com.