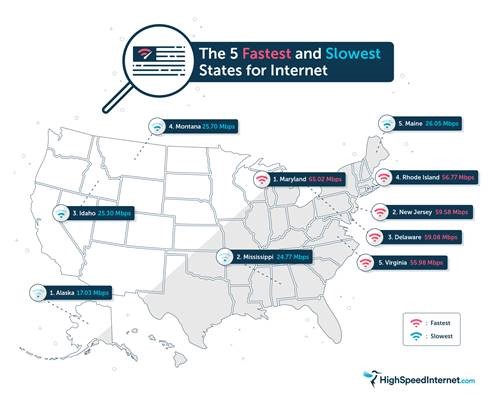 PROVIDENCE – Rhode Island had the fourth-highest internet speeds in the United States, according to a recent report from HighSpeedInternet.com.
The report said that the average speed of connections tested in Rhode Island was 56.77 megabits per second. Rhode Island trailed Maryland at No. 1, New Jersey at No. 2 and Delaware at No. 3. The company said that it collected data from the report from June 2018 through 2019.
The U.S. average speed this year was 42.42 Mbps.
New England average internet test speeds:
Rhode Island: 56.77 Mbps
Massachusetts: 54.01 Mbps
New Hampshire: 44.01 Mbps
Connecticut: 42.36
Vermont: 30.62 Mbps
Maine: 26.05 Mbps
The slowest internet speed in the report was in Alaska at 17.03 Mbps.
View the full report online.