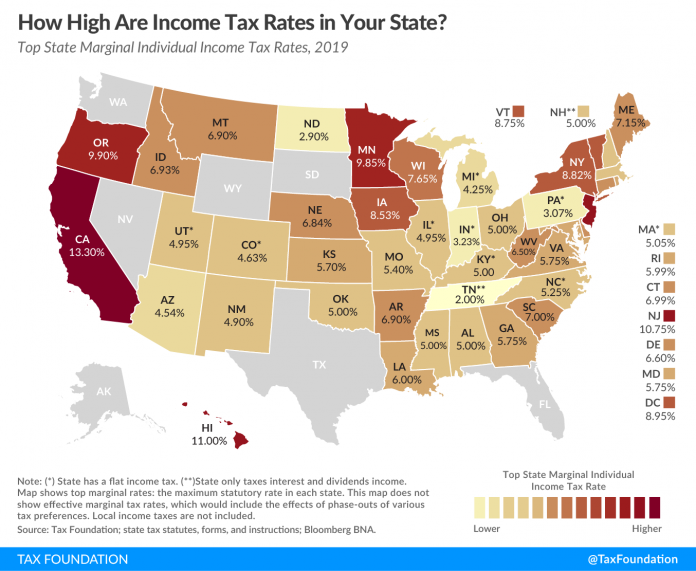 PROVIDENCE – Rhode Island's top tax marginal individual tax rate for 2019 is 5.99 percent, fourth highest in New England, according to the Tax Foundation Wednesday.
The 5.99 percent Rhode Island tax rate applies to adjusted incomes greater than $145,600 for both single filers and joint-filing married couples. Rhode Island has three income tax rates depending on income.
The highest top marginal tax rate in New England is in Vermont at 8.75 percent. The tax rate applies to single and joint-filing married earners that make $416,650 or more annually. Vermont has five tax-rate brackets in 2019.
The second-highest top marginal tax rate in New England is in Maine at 7.15 percent, followed by Connecticut at 6.99 percent, Rhode Island at 5.99 percent and Massachusetts at 5.05 percent.
New Hampshire only taxes interest and dividends income at a rate of 5 percent.
Connecticut had the most tax brackets in the region at seven. Hawaii has 12 brackets, the most in the country.
Nationally, the highest top tax rates in 2019 for individual income taxes were levied in California (13.3 percent), Hawaii (11 percent), New Jersey (10.75 percent), Oregon (9.9 percent) and Minnesota (9.85 percent).
The lowest top individual tax rates were in Tennessee (2 percent of interest and dividends income), North Dakota (2.9 percent), and Pennsylvania (3.07 percent).
Rhode Island's top marginal tax rate is the 21st-highest in the nation.