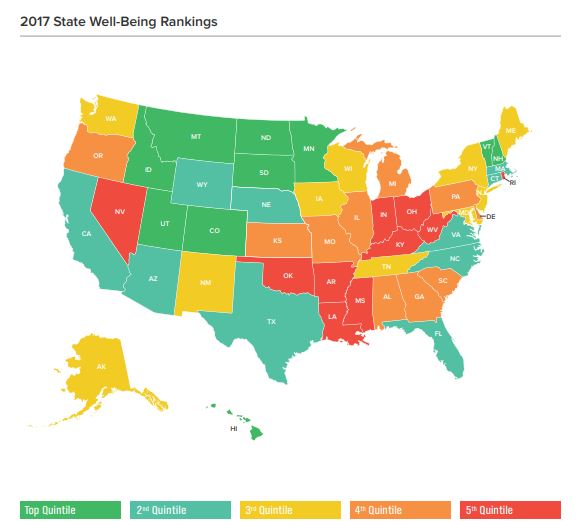 PROVIDENCE – Rhode Island ranked No. 41 in the United States in the 2017 State of Well-Being Rankings released by Gallop and Sharecare Inc. Tuesday.
The report was based on a survey of more than 2.5 million Americans and considered five well-being categories: purpose, social, financial, community and physical.
Purpose was defined as liking what one does each day and being motivated to achieve their goals.
Social was defined as having supportive relationships and love in life.
Financial was defined as managing economic life to reduce stress and increase security.
Community was defined as liking where one lives, feeling safe and having pride in a community.
Physical was defined as having good health and enough energy to get things done daily.
Rhode Island ranked in the bottom 10, primarily on poor rankings in purpose and social, in which the state scored last in the nation for each. Rhode Island ranked No. 39 among states for its community well-being, No. 36 for its financial well-being rank and No. 21 for the physical component of the survey. However, the Ocean state improved one ranking from 2016 from No. 42 to No. 41 in 2017.
Rhode Island ranked the worst out of all of the New England states with a total score of 60.5. The lowest score in the U.S. was 58.8 for West Virginia while the highest score the nation was 64.1 in South Dakota.
Vermont ranked No. 2 in the U.S. with a score of 64.1, taking the top spot in New England and ranking No. 1 in the nation for its community well-being. In 2016, Vermont ranked No. 6 in the nation.
New Hampshire was the second-highest rated New England state with a score of 62.8, ranking No. 7 in the nation. Last year, New Hampshire ranked No. 22.
Massachusetts ranked No. 11 this year, a three-rank improvement from 2016. The Bay state ranked No. 4 in the U.S. for its physical well-being, No. 8 in the country for social well-being, No. 9 for financial well-being, No. 13 for community well-being and No. 47 for purpose.
Connecticut remained ranked No. 20 in the nation while Maine dropped 20 spots from fourth to No. 24 in the nation from 2016 to 2017.
Chris Bergenheim is the PBN web editor.