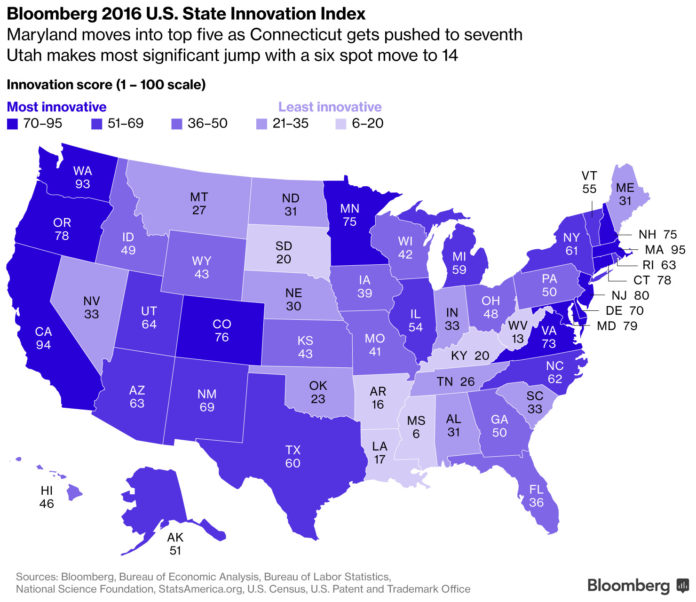 PROVIDENCE – Rhode Island ranked 16th in the Bloomberg Innovation Index, falling two spots from last year.
The Bloomberg U.S. Innovation Index scored each of the 50 states on a 0-100 point scale across six equally weighted metrics: R&D intensity; productivity; high-tech density; concentration of science, technology, engineering and mathematics employment; science and engineering degree holders; and patent activity.
Rhode Island's total score was 62.55, and it placed first in the nation for tech company density.
It ranked 18th for R&D intensity; 21st for science and engineering degree holders; 24th for patent activity; 25th for STEM concentration; and 26th for productivity.
Massachusetts ranked first overall for the second year in a row, boosted by investment in higher education and research. It was fourth in tech company density and second in patent activity and R&D intensity.
"Massachusetts got on very early to the idea of trying to promote itself as an R&D center," Greg Sullivan, research director at Boston-based Pioneer Institute, a public policy research shop, told Bloomberg News.
In addition, the reading "just shows the importance of the university cluster in Massachusetts, especially Harvard and MIT."
"The government's trying to really be actively engaged in recruiting companies directly, actively, and smartly," said Sullivan.
California was second in the annual ranking of the most innovative states. Washington, New Jersey, Maryland, Oregon, Connecticut, Colorado, Minnesota and New Hampshire rounded out the top 10. The top four states were the same as last year.
Mississippi was last for the second consecutive year.