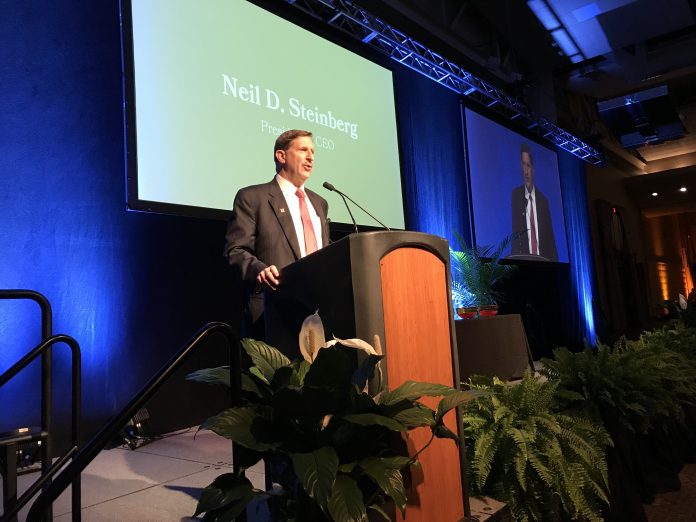 PROVIDENCE – The Rhode Island Foundation held its 2019 Annual Meeting Thursday evening at the R.I. Convention Center with more than 850 guests in attendance.
Rhode Island Foundation President and CEO Neil D. Steinberg recapped the organization's year, citing a record year for giving and highlighting the organization's progress on its new long-term health care and education initiatives and stressed the importance of the foundation's census efforts.
"We strive to work collaboratively with many to balance short- and long-term needs, geographic requirements and sector challenges. We are focused on long-term systemic change while not ignoring the immediate needs right outside our door," he said.
The organization's health care efforts centered around the regular convening of a meeting between hospital CEOs, insurance company leaders, health care worker representatives, health education leaders and state officials. The group is focused on a 10-year plan to improve outcomes in the state. Steinberg said that among tactics and efforts to improve health in the state, the group set a 3.2% state health care spending target.
Steinberg noted that the foundation's education initiative also convened a group of stakeholders, consisting of a spectrum of education leaders and officials that are collaborating on long-term reforms of Rhode Island's education system with efforts to achieve the closure of achievement gaps, to distribute education leadership, align policies, engage families and set higher standards for school achievements and student preparedness for the current and future economy.
"Both of these initiatives in health and education are making progress and both are very challenging," Steinberg said to the crowd. "Our goal is to get 80% of where we need to be in the future … this is our moment in time to tackle these."
Steinberg also promised updates on both of the education and health care efforts soon.
Steinberg acknowledged that while the economy was strong, needs in the state are growing, and economic disparities and health crises persist. Steinberg urged that the economic good times not slow philanthropic efforts.
"We need to build a ship for all weather – for times when the wind is at our sails or squalls are ahead," he said. "We could experience an economic slowdown, stock market correction, government funding cuts that can impact financial needs and financial support in Rhode Island."
The Rhode Island Foundation also honored its 2019 Annual Meeting awardees:
This year, the Community Leadership Award was presented to the College Crusade of Rhode Island for its commitment to increasing high school graduation, college and career readiness, and college completion for young people in Rhode Island's low-income communities, RIF said. The Community Leadership Award each year recognizes an individual or nonprofit for demonstrating innovation, impact, commitment and leadership in one of the foundation's priority areas.
Robert D. Sherwin, senior vice president and financial adviser at Morgan Stanley, was presented the Harold B. Soloveitzik Professional Leadership Award, which recognizes a member of the professional adviser community that has demonstrated an enduring commitment to philanthropy, for his emphasis on and expertise in charitable planning as a service to the community, as well as to his clients, the foundation said.
The foundation's Carter Inspiring Partner Award was given to Tim Hebert and Kim Hebert. The award honors donors who have inspired the foundation with a thoughtful approach and commitment to philanthropy.
Tim Hebert is the chief managed services officer at Carousel Industries of North America Inc. He was the president of Atrion before the company was acquired by Carousel in 2016. He is also the founder and CEO of Cranston software developer Trilix.
Chris Bergenheim is the PBN web editor. You may reach him at Bergenheim@PBN.com.