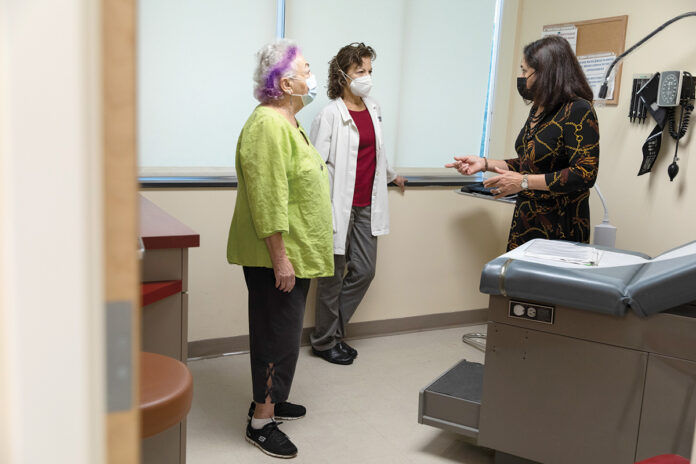 PBN Business Excellence Awards 2020
Excellence at a Social Service Agency: Rhode Island Free Clinic
---
EVEN AFTER EXPERIENCING "significant disruption" this year due to the COVID-19 pandemic, the Rhode ­Island Free Clinic has remained a lifeline for thousands of uninsured Rhode Islanders.
In response to the public health crisis, the clinic quickly shifted to offer telemedicine services, set up a COVID-19 testing site that has tested more than 2,000 people and increased the number of patients it had been ­serving.
The organization achieved this even after losing many volunteers and having to cancel in-person fundraising events due to the pandemic.
The Providence-based health clinic provides free comprehensive medical care to Rhode Islanders who earn below 200% of the federal poverty level and do not have medical insurance. It also offers comprehensive primary health care services, specialty care, dental care, behavioral health care, and laboratory and diagnostic services.
The clinic's annual budget of $1.2 million is funded fully through donations by corporations, foundations and individuals. Open since 1999 and founded by former R.I. first lady Stephanie Chafee, it relies on a volunteer workforce of doctors, nurses, physical therapists, interpreters and others who have a desire to help.
The nonprofit also collaborates with more than a dozen academic and training partners to provide workforce training to future health care professionals. In a typical year, more than 200 students train at the clinic and log over 7,000 training hours.
The volunteer-based model allows the clinic to use 88% of its funding for direct patient care and education, with the remaining 12% used for administrative and overhead costs.
"Volunteers have always been the heart and soul of the clinic," said Marie Ghazal, Rhode Island Free Clinic's CEO. "It's a volunteer model of health care. It's amazing how people give of their time and their talent, and they tell me they're getting more out of it than they give."
Despite the rewards, many volunteers have not been able to work there during the pandemic.
"We've lost a tremendous amount of people," Ghazal said. "Many are older, and some are retired. Some may have underlying health conditions, or don't want to risk family members. They made the best decision they could."
To help cover the reduction in its labor force due to COVID-19, the clinic secured funding this year to hire some providers to work part time, including physician Marina Rodriguez. A volunteer there for the last 20 years, she retired late last year from her full-time job as an internist in East Providence. Earlier this year, Rodriguez came out of retirement to take on a new role at the clinic. Her current part-time position includes providing telehealth care for those who have tested positive for COVID-19 at the clinic's testing site and addressing patients' routine primary care concerns.
"I've never been blessed so many times," Rodriguez said. "You can tell that people are so appreciative and they have a real need."
Many of her patients have chronic health conditions, including diabetes, high blood pressure and back pain.
"A lot of my job involves teaching people how to manage their illness through things like lifestyle changes and medications," Rodriguez said.
This year, the clinic has experienced an increased demand for services, which is likely a result of the economic downturn associated with the pandemic, Ghazal said. Even before the pandemic, more than 40,000 adults in Rhode Island did not have health insurance, she said.
"Now more people have lost their jobs and are on unemployment," Ghazal said. "We have 300 to 400 people each month waiting to become patients, and we're trying to take about 50 new people a month."
The Affordable Care Act has helped make health insurance more accessible to more people, but many patients "still fall through the gap," Ghazal said. They earn too much to qualify for insurance under Medicaid, yet earn too little to afford their own insurance, she said.
Over the last five years, the clinic has provided more than 40,000 free patient visits to those uninsured, low-income Rhode Island adults.
"I can't imagine what would happen if we didn't have this clinic," Rodriguez said.

Want to share this story? Click Here to purchase a link that allows anyone to read it on any device whether or not they are a subscriber.