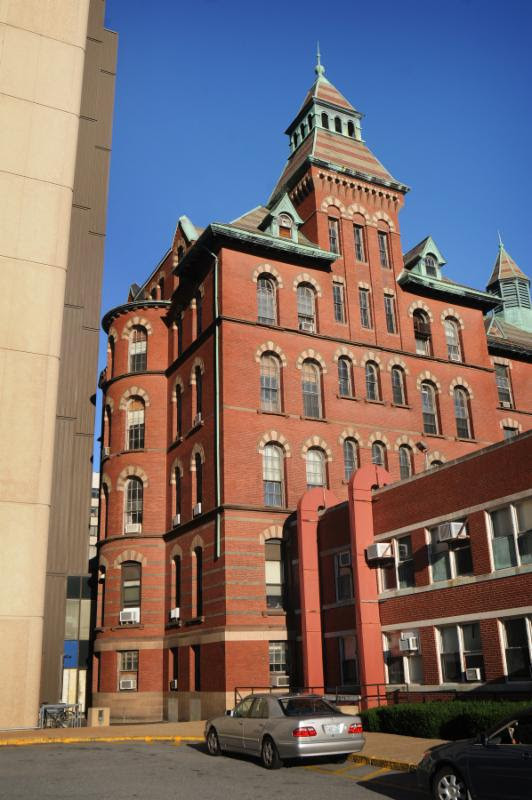 PROVIDENCE – Rhode Island Hospital has filed an appeal with the Providence Zoning Board, seeking to overturn a City Plan Commission decision that will prevent the nonprofit from tearing down the Southwest Pavilion.
The ornate, four-and-a-half-story building was begun in 1898 and is now located near the center of the hospital campus.
Rhode Island Hospital, which is owned by Lifespan, appreciates the history and architectural significance of the building, according to spokesman David Levesque, but has not been able to find a feasible way to restore the building for modern purposes.
The hospital has investigated alternatives for more than 20 years, he stated.
"Most recently, the hospital hired Durkee, Brown, Viveiros & Werenfels Architects to consider the viability of renovating the building for possible office space and limited outpatient services, as the building could never accommodate the majority of other clinical needs of a modern hospital."
The company estimated the renovations could cost the hospital more than $26.5 million, Levesque said in a statement.
"Clearly, such an enormous investment does not make economic sense from the perspective of Rhode Island Hospital, an organization whose mission is ensuring that our clinical and charitable resources are invested in providing the best health care possible to our patients in the most responsible manner," Levesque said.
Preservationists argue that the building is historically important, and that the hospital has not tried effectively to find alternate uses for it that could be lower cost, or might even generate a profit.
The red-brick building, designed by Providence architects Stone, Carpenter & Willson, was the third building in the hospital complex, according to a history compiled by the Providence Preservation Society.
Only a few of the Stone, Carpenter & Willson buildings remain in Rhode Island, said Brent Runyon, executive director of the preservation society.
"We do believe it is an important building to save," Runyon said.
The building, constructed in a T-shaped design, was originally intended to serve women and children patients, with wards for each, as well as a playroom for the children, and to house the hospital's first pathological laboratory, according to the preservation society.