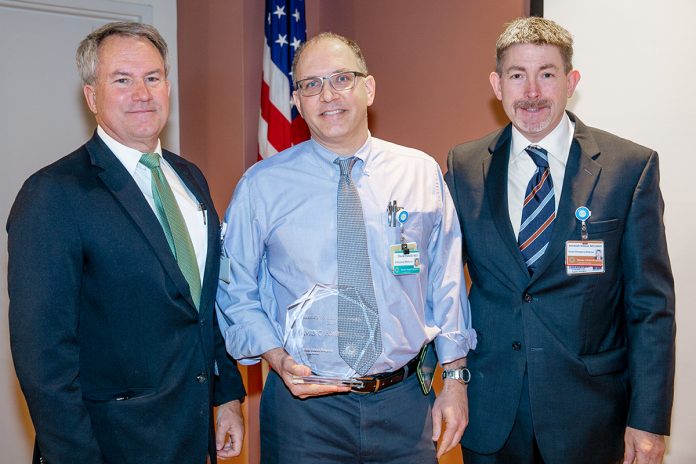 PROVIDENCE – Dr. David Portelli has been honored with the Service to Hospital Award from the Rhode Island Hospital Medical Staff Association.
Portelli has served as medical director of Rhode Island Hospital's Andrew F. Anderson Emergency Center since 2014. He was recognized for his contributions to the hospital, leadership and innovation.
Dr. Jeremiah Schuur, Lifespan Corp.'s chief of emergency medicine, described Portelli's commitment to his job in his nomination letter.
"Dave leads in his service by example. He works the hardest clinical shifts, is one of our most efficient physicians, and never asks for credit. … He is an advocate for all patients. He expects the best of himself, the emergency department faculty, residents and staff, as well as the rest of the hospital," Schuur wrote.
Rhode Island Hospital's emergency department saw 100,000 patients last year and is the region's only Level I trauma center.
"Dr. Portelli is incredibly deserving of this recognition by his physician colleagues," said Dr. Margaret M. Van Bree, president of Rhode Island Hospital. "He works tirelessly and has been a key leader not only in the emergency department but in heading the hospital's quality improvement program. His dedication to his patients and colleagues is clear."
Portelli is also a clinical professor of emergency medicine at the Warren Alpert Medical School of Brown University, and a fellow of the American Academy of Emergency Physicians and of the American Academy of Emergency Medicine.