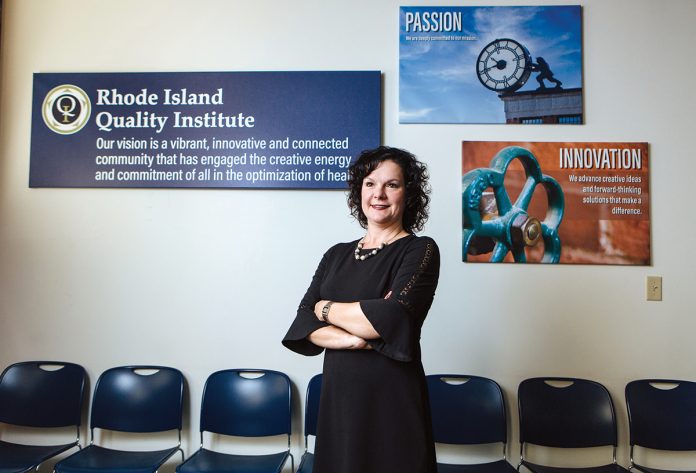 2019 C-Suite Awards | CHIEF HUMAN RESOURCES OFFICER, NONPROFIT: MICHELLE DEXTER | RHODE ISLAND QUALITY INSTITUTE
---
MICHELLE DEXTER, senior director of human resources at the nonprofit Rhode Island Quality Institute, is a listener and a list-maker.
"Michelle's listening skills are second to none," said Laura Adams, former RIQI president and CEO. "She frequently counsels, mentors and guides employees and all levels of management. Staff will pour their heart out to Michelle because they know she will offer empathy, support and wise counsel."
This ability to listen is part of the reason why the nonprofit's HR department has become a pillar of the institution over the six years Dexter has been at RIQI, Adams said. Dexter's ability to handle even difficult conversations with employees makes a difference in morale and gathering insight on ways the organization can improve.
Dexter is proud of RIQI's progressive work environment, which includes flex time for staff to work from home. "It was a critical piece for me to have flexibility," she said.
RIQI supports collaboration and innovation in health care and works to balance those efforts with the needs of the community in ways that improve quality and lower costs. It competes with larger, for-profit companies for talented people in information technology and big-data analytics. Dexter is a huge factor in RIQI's successful recruitment efforts, Adams said.
According to Adams, Dexter was also the force behind RIQI winning a PBN Best Places to Work award for the past two years. The Employers Association of New England also named RIQI its Employer of Choice in 2017.
Dexter seeks input from employees about the workplace culture.
In another level of listening, Dexter started a values survey among the 65 or so employees about four years ago, she said, where they are asked what is working and not working for them within the company. Senior leaders review the results and report back to employees.
"Our intent was to get feedback, share the information with staff and take a deeper dive," said Dexter. "We feel employees should get a voice, allowing them to be a part of something." She established an Organizational Excellence program for upper management to focus on elevating the office culture.
Dexter also set up a vehicle for RIQI team members to recognize each other's good work.
"We created a High-Five Peer-to-Peer Recognition program," Dexter said. Employees can go write an accolade about a co-worker on a designated office bulletin board – five instances of such recognition earn the employee a trophy.
But even that HR program has room for improvement. A suggestion box has been set up for feedback from employees.
"It's not just leadership, it's all levels looking at what's working well," Dexter said. "What can we do to refresh a program? What we can do next? We like to engage at all levels."
Engaging at all levels includes using creativity and innovative thinking in order to make RIQI and its staff stronger. Without a robust budget for professional development, Dexter has become skilled at winning state grants for that purpose.
"She works magic with a modest budget," said Adams.
"It's about applying for grants, building relationships with others in the community. You have to go out there and see what is available and then foster those opportunities," said Dexter.
One of Dexter's skills is time management; she relies on lists and carving out time to process the points of a meeting and prioritizing follow-up actions. She believes strongly in making time to reflect after a meeting or at the end of the day, reviewing what transpired and planning next steps.
No matter how busy she gets, there's always time for Dexter to volunteer with the Epilepsy Foundation. Her daughter, 16, has been seizure-free for nine years.
"I want to give back for those going through it," Dexter said.