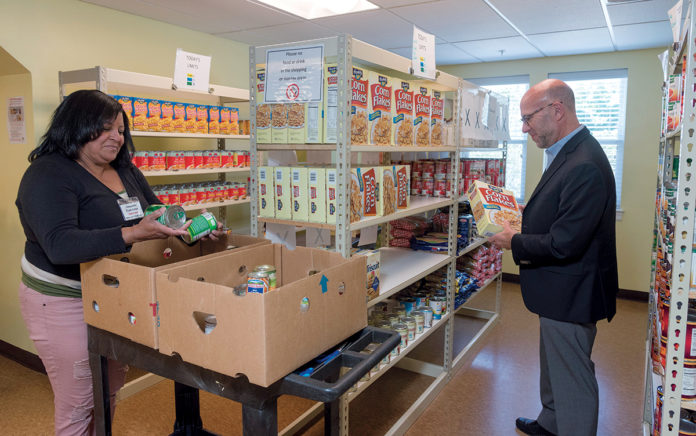 PROVIDENCE – In the wake of what some are calling a storm for the ages, Rhode Islanders are banding together to aid those who have been displaced or impacted in other ways by the devastating effects of Hurricane Harvey.
In a Tuesday statement, University of Rhode Island College of Business professors Koray Özpolat and Gary Kayakachoian suggested Rhode Islanders donate money to relief funds rather than ship items they feel those affected might need.
"As academics in logistics and finance, we recommend Rhode Islanders make monetary contributions to reputable humanitarian organizations in the aftermath of Hurricane Harvey in Texas," their statement read. "No donated item travels faster than cash and such organizations will get the cash directly to the stricken area and purchase what people truly need on the ground. Such purchases will help the local businesses in and around Houston and will thus stimulate the disaster area's economy. Your dollar contributions are greener and travel farther as transportation and storage costs are avoided. Individuals can also receive tax breaks, as cash donations to reputable organizations are tax deductible."
The Providence-based Rhode Island Community Food Bank is a member of the nationwide network of food banks called Feeding America. In their Wednesday newsletter, they said they "stand ready" to help those in need in Texas and also suggest monetary donations are the best way for Rhode Islanders to lend a hand.
Donations to the food bank can be made online.
While multiple Texas and Louisiana United Way chapters are addressing issues on the ground, explained Sandi Connors, executive vice president of the United Way of Rhode Island, in an email, the Ocean State branch is helping to launch the United Way Harvey Relief Fund. All money raised by the fund will be distributed to United Way branches in affected neighborhoods in an attempt to "complement local [fundraising] efforts."
In an emailed statement, Connors said: "United Ways across the southeastern Texas and southwestern Louisiana regions today are helping families face devastating losses from the historic flooding, with an eye toward long-term recovery. To support the recovery effort, 100% of any donations made through the United Way Harvey Relief Fund will reach the affected United Ways."
Rhode Island-based shoppers at Bentonville, Ark.-headquartered Walmart stores will also be able to help Hurricane Harvey victims. The Walmart Foundation committed up to $20 million to aid those impacted by the storm by matching two to one customer donations from across the nation with cash and products up to $10 million. A second $10 million will be donated to multiple organizations aiding relief in the Houston area, including the Salvation Army, Feeding America, Convoy of Hope, Team Rubicon and the Hurricane Harvey Relief Fund at the Greater Houston Community Foundation.
"Our Texas family of customers and associates are experiencing devastating impact from this storm," Doug McMillon, president and CEO of Walmart, said in prepared remarks. "We are on the ground to help our friends and neighbors in the Gulf region, and we'll continue to be in the tough days, weeks and months ahead."
In a letter to its customers sent Wednesday, CVS Health Corp. partnered with the American Red Cross and set up an online donation website, which generated more than $70,000 in donations from more than 1,000 people as of Thursday.
Other organizations are collecting cash donations as well as goods to be transported to the Houston area, among them the YMCA of Greater Providence.
"We hope to bring some relief through the generosity of our members and all Rhode Islanders to those in need. We want to show the Lone Star State that they are not alone," Steven G. O'Donnell, CEO, YMCA of Greater Providence, said in prepared remarks.
With a deadline of Friday, Sept. 8 at 4 p.m., local branches are collecting new bedding in its packaging, nonperishable food items, cleaning supplies, and trash bags and plastic storage containers.
No clothing is needed due to limited storage space. To make a donation to the Houston YMCA, visit its website or text HOUSTON to 91999.
Collection points include Bayside YMCA (70 W. St., Barrington), Cranston YMCA (1225 Park Ave., Cranston), Kent County YMCA (900 Centerville Road, Warwick), South County YMCA (165 Broad Rock Road, Peace Dale), West Bay Family YMCA (7540 Post Road, North Kingstown), East Side/Mt. Hope YMCA (438 Hope St., Providence) and Newman YMCA (472 Taunton Ave., Seekonk).
In addition, the State Alliance of Rhode Island YMCAs donated $5,000 to the YMCA of Greater Houston's Support Harvey Relief efforts.
At its Cocktails by the Sea event on Sept. 17, Bristol-based women's empowerment nonprofit organization Caritas Smile will collect diapers and feminine products to be shipped to communities impacted by Hurricane Harvey.
The event will he held from 4 to 7 p.m. at the Lobster Pot in Bristol. The organization asks attendees to RSVP online prior to arrival.
Also on Tuesday, Gov. Gina M. Raimondo got involved in the relief effort by attending Red Cross volunteer-training sessions in Cranston.
In an emailed statement, she said: "Natural disasters like Harvey bring out the best in us and remind us that we are all Americans. The people of Texas need our help, and Rhode Islanders are ready to do whatever we can to help."
She also explained the Rhode Island National Guard is on call and ready to deploy to the impacted area if needed.
Emily Gowdey-Backus is a staff writer for PBN. You can follow her on Twitter @FlashGowdey or contact her via email, gowdey-backus@pbn.com.