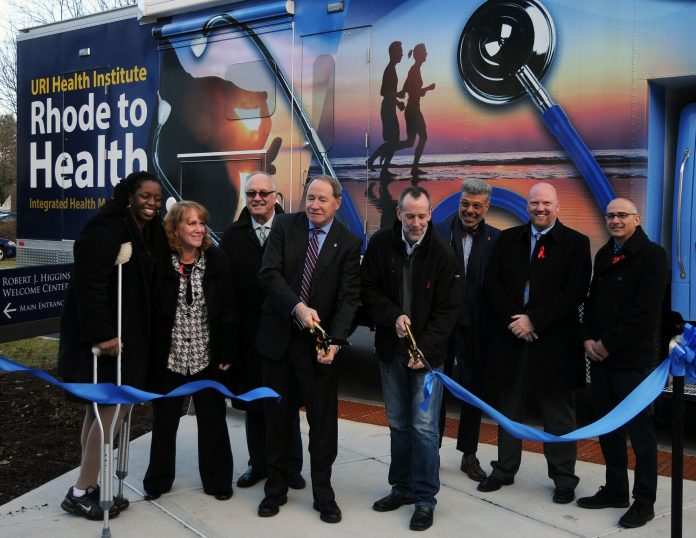 SOUTH KINGSTOWN – Health experts from the University of Rhode Island Academic Health Collaborative recently dedicated its new Rhode to Health mobile unit, a 37-foot bus that will perform community health outreach, screening for HIV/AIDS and provide basic clinical and behavioral health care.
The vehicle features two soundproof, multiuse exam rooms and an intake and screening area, along with a restroom, medical refrigerator/freezer, space to perform blood tests and standard equipment found in a typical medical office. The $400,000 vehicle was funded by the state of Rhode Island through the Ryan White Foundation. It was unveiled during a ceremony at the university's Robert J. Higgins Welcome Center.
The URI Health Institute, part of the Academic Health Collaborative, recently acquired the mobile medical unit to help increase the collaborative's and the state's outreach into the community.
"A mobile unit allows the state and its partners to better serve Rhode Islanders who do not have direct access to medical care, feel stigmatized when walking into a clinic or have other issues preventing them from seeking care," said Paul Loberti, director of the HIV Provision of Care & Special Populations Unit in the R.I. Executive Office of Health and Human Services.
It will primarily be used to screen potentially at-risk residents in the community for HIV. Faculty members and students from the URI colleges of health sciences, nursing, and pharmacy will staff the bus to provide health screenings and basic care, potentially including blood pressure checks and flu shot clinics, among other health outreach efforts.
"We're partnering with the state to involve URI in screening and treatment for HIV while also providing general health care in the community," said Bryan Blissmer, director of the URI Health Institute. "The bulk of the work will revolve around HIV screening and care, in coordination with the Ryan White Foundation. By having clinical capacity between nursing and pharmacy, and behavioral health capacity with psychology, we'll have a team that can provide comprehensive, multidisciplinary care in the community."
The URI Health Institute will work with EOHHS and the R.I. Department of Health to identify areas in Rhode Island where the unit can be put to its best use. It is expected to be on the road two to three days per week throughout the state.
"The Rhode to Health mobile unit will be an important complement to the HIV prevention work that the R.I. Department of Health has led with the community to make sure that treatment as prevention services are accessible in as many zip codes throughout the state as possible," said Dr. Nicole Alexander-Scott, director of RIDOH. "The Rhode to Health mobile unit will also be critical in helping Rhode Island's progress toward its 90-90-90 Campaign goals, which are to ensure that by 2020, 90 percent of Rhode Islanders with HIV know their status, are connected to vital medical care and have suppressed viral loads. All Rhode Islanders deserve to live a long, full, healthy life."
Rob Borkowski is a PBN staff writer. Email him at Borkowski@PBN.com.