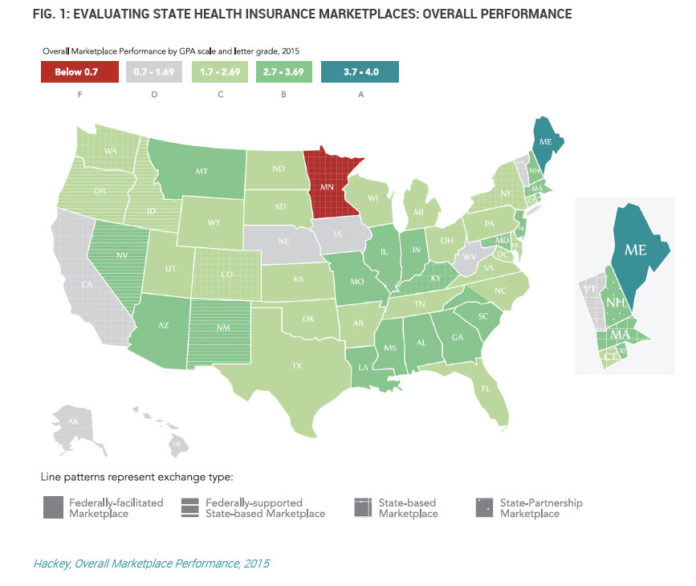 (Updated 3:26 p.m.)
PROVIDENCE – Rhode Island received an overall grade of B- in a recent report from the College and University Research Collaborative that evaluated the performance of state health insurance marketplaces.
The report, from Providence College Professor of Health Policy and Management Robert Hackey, notes that Rhode Island, with its state-based marketplace, HealthSource RI, placed in the top half of states in terms of overall marketplace performance.
PC student researchers Sabrina Guilbeault and Erika May assisted Hackey with the study.
The study also said the Ocean State did well in promoting competition in the individual insurance market as it was one of only five states to earn an A on both limiting premium growth and expanding the number of qualified health plans available in the marketplace.
However, it said Rhode Island ranked poorly in signing up new enrollees, receiving a D, because it had the fourth-lowest rate of enrollment growth in the nation in the second enrollment period, and performed just slightly above the national average in the proportion of eligible individuals enrolled, receiving a C.
"In the long run, the success of HealthSourceRI depends on its ability to do more with less. Funding is unlikely to return to previous levels, when federal grants provided generous support for outreach and education. It will be essential to find creative ways to support and expand the exchange within a budget that is currently around $11 million per year. Since Rhode Island is already a top-performer in fostering marketplace competition, increasing enrollment could be a higher priority. To do so, HealthSourceRI may need to dedicate additional resources to bolster consumer outreach and customer service," the report stated.
The report states that HealthSource RI went through "significant leadership turnover" in 2015, having had three executive directors that year.
To come up with the results, states were graded from A to F on indicators including enrollment growth – the percentage change, from 2014 to 2015, in the number of individuals selecting a marketplace plan during the open enrollment period, as well as market penetration – the percentage of total eligible participants who signed up and paid for a marketplace plan in 2015. States also were graded on premium cost – the percentage change in premiums from 2014 to 2015, and plan choice – the percentage change, from 2014 to 2015, in the number of insurers offering qualified health plans to consumers through each marketplace.
Maine was the nation's top performer, receiving the only grade in the A range, an A-, while Hawaii placed last as the only state to receive an F. The national average was a C+, the report said.
The Collaborative is funded by the Rhode Island Foundation, the state of Rhode Island and Rhode Island's 11 colleges and universities.