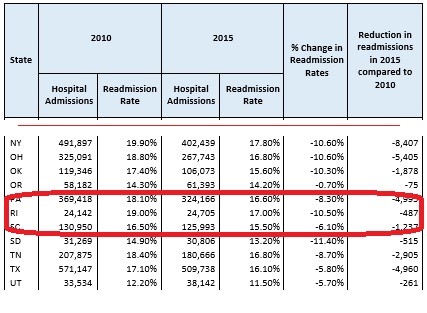 PROVIDENCE – Rhode Island ranked seventh in the nation for its percentage decline in hospital readmission rates from 2010 to 2015, the Centers for Medicare & Medicaid Services said recently.
The Ocean State experienced a 10.5 percent decline over that period, to 24,705 hospital readmissions in 2015 at a 17 percent rate from 24,142 in 2010 at a 19 percent rate, according to the agency.
Hawaii ranked first in the nation for its percentage drop in readmission rates at 13.4 percent, followed by New Jersey with a 13.3 percent decline and Illinois with a 12.1 percent drop.
Even with the improvement, however, Rhode Island was tied for the 11th-highest readmission rate with Nevada among the 50 states and the District of Columbia.
Readmission rates are measured as the return of a patient within 30 days of being discharged from a hospital.
Between 2010 and 2015, readmission rates fell 8 percent nationally. CMS' data showed that, since 2010, all states but Vermont have seen 30-day readmission rates fall. Vermont's readmission rate increased 0.7 percent over that time period. In 43 states, readmission rates fell by more than 5 percent, and in 11 states, by more than 10 percent
Avoidable hospital readmissions occurring within 30 days of patients' initial discharges are estimated at more than $17 billion in annual Medicare expenditures, according to the agency, which said such readmissions are costly and are often an indicator of poor quality health care. Some readmissions can be avoided through health care improvements, such as ensuring patients leave the hospital with appropriate medications, instructions for follow-up care and scheduled follow-up appointments.
In an effort to reduce the number of such hospital readmissions, the Affordable Care Act's Hospital Readmissions Reduction Program adjusts payments for hospitals with higher than expected 30-day readmission rates for targeted clinical conditions such as heart attacks, heart failure and pneumonia, and CMS' Partnership for Patients focuses on making hospital care safer and improves the quality of care for individuals as they move from one health care setting to another.
These efforts appear to be proving valuable, according to a recent CMS statement.
Across states, CMS reported that Medicare beneficiaries avoided approximately 100,000 readmissions in 2015 alone, compared to if readmission rates had stayed constant at 2010 levels. That means Medicare beneficiaries collectively avoided nearly 100,000 unnecessary return trips to the hospital.