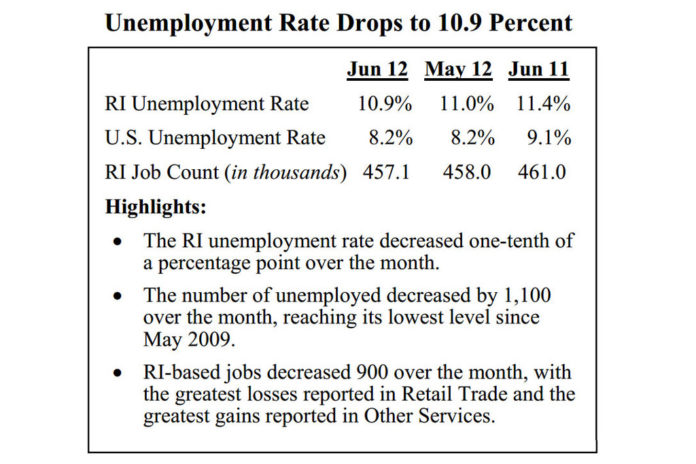 CRANSTON – The state's unemployment rate dropped to 10.9 percent in June, according to the R.I. Department of Labor and Training.
In its monthly report released Friday, the department says last months' rate is the lowest since January 2012 and dropped from 11 percent in May and from 11.4 percent in June 2011.
DLT figures show that 495,000 Rhode Island residents had jobs in June, down 400 from May and down 4,500 from June 2011.
The Rhode Island labor force totaled 555,200 in June, down 1,600 from May and down 8,200 from June 2011 estimates. DLT said this decrease reflects losses in employed residents and losses in unemployed residents.
It represents the lowest Rhode Island labor force since January 2005.
The number of unemployed residents – those who are available for and actively seeking employment – dropped by 1,100 in June, reaching 60,300. That is a 3,700 decline since June 2011.
This is the lowest number of unemployed residents since May 2009.
Sectors that increased employment levels in June were manufacturing (400), due to an increase in durable goods employment, and construction (200) due to an increase in specialty trades employment.
Sectors that lost jobs included retail (600), professional and business services (500), government (300), and financial activities (200).
The average hourly production wage for manufacturing was unchanged from May at $18.23 per hour, a $2.24 increase from June 2011.
The U.S. unemployment rate for June was 8.2 percent, remaining stagnant from May but dropping from 9.1 percent in June 2011.