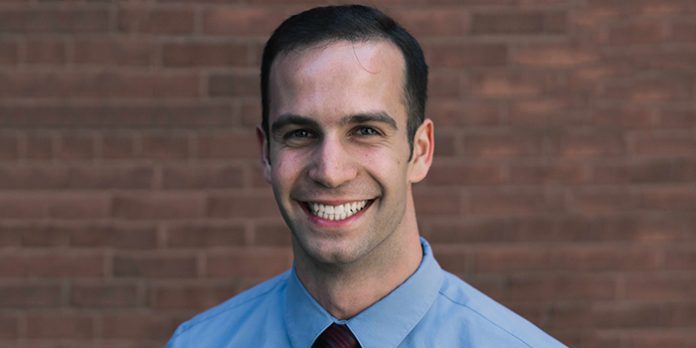 PROVIDENCE – Graduating from Rhode Island College with an individualized master's degree in secondary education, Seth Kolker is also celebrating receipt of two international scholarships: the Schwarzman Scholarship and the Gates Cambridge Scholarship.
Kolker, who graduated summa cum laude from Yale University in 2014 with a bachelor's degree in ethics, politics and economics, is the first student in the college's history to receive these awards.
"Seth is a shining example of the tenacious spirit and extraordinary talent I see in so many of our students at Rhode Island College, and he is certainly deserving of these prestigious awards," said RIC President Frank D. Sánchez in a statement. "His thought leadership, global perspective and cultural activism will surely make important differences in public policy and in education for the foreseeable future."
The Schwarzman Scholarship was founded in 2016 with a $100 million endowment by Stephen Schwarzman, chairman, CEO and co-founder of Blackstone. The program gives students the opportunity to develop their leadership skills and professional networks.
The 2018 class consists of 142 students from 39 countries. As a Schwarzman Scholar, Kolker will begin a fully funded, one-year master's degree program centered on global affairs, with a concentration in public policy, at Schwarzman College in Beijing in August.
The Gates Cambridge Scholarship, established by the Bill & Melinda Gates Foundation in 2000 with a $210 million endowment, enables graduate students from outside the U.K. to pursue full-time graduate studies in any subject at the University of Cambridge in Cambridge, England.
Out of nearly 800 applicants from across the country, 35 were chosen this year. As a 2019 Gates Cambridge Scholar, in the fall of that year Kolker will focus on comparing and evaluating educational programs from across the globe. He will also research ways to prepare young people to become citizens and feel a sense of belonging within a larger community.
Emily Gowdey-Backus is a staff writer for PBN. You can follow her on Twitter @FlashGowdey or contact her via email, gowdey-backus@pbn.com.