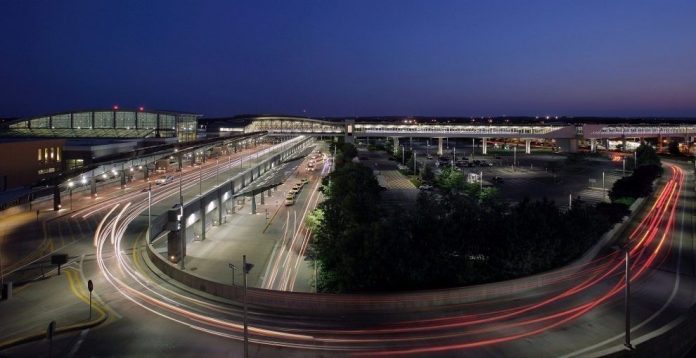 WARWICK – The R.I. Department of Transportation will receive a $2.8 million federal grant to fund further efforts between the state and Amtrak to bring Amtrak service to T.F. Green Airport, the Rhode Island congressional delegation announced Monday.
The funds are from a Consolidated Rail Infrastructure and Safety Improvements grant overseen by the U.S. Department of Transportation.
Currently Amtrak has three stops in Rhode Island in Providence, South Kingstown and Westerly.
The T.F. Green station would require upgrades to accommodate Amtrak service, according to the Federal Railroad Administration. The station is currently only serviced by trains operated by the Massachusetts Bay Transportation Authority.
The FRA conducted a feasibility study that presented several options to bring regular Amtrak service to the station. The new grant will help RIDOT conduct a comprehensive review of track and signal improvements that would be required, along with operating costs needed to expand the service, according to the delegation.
"Bringing Amtrak service directly to T.F. Green could help make the airport more accessible and better connect Rhode Islanders to opportunities and transportation choices. I will continue to support the state's efforts at the federal level and work to ensure that any plan to move forward is undertaken in a smart, cost-effective manner that builds on the significant investments we have already made," said Sen. Jack Reed, a Democrat, in a statement.
The funds for the study, which will be done in partnership with Amtrak, will be used to advance the initiative and support preliminary engineering and environmental review work on the potential new Amtrak stop in Warwick, the delegation said.
The delegation also noted that a new Amtrak stop at the airport would "help accelerate the commercial development of City Centre Warwick."
"Bringing Amtrak to our airport and strengthening the link between multiple modes of transportation there will have a positive impact on Rhode Island's economy and will be an important factor in further developing T. F. Green Airport's great potential. RIDOT is looking forward to working with our partner Amtrak to make these improvements a reality," stated RIDOT Director Peter Alviti Jr.
Chris Bergenheim is the PBN web editor. You may reach him at Bergenheim@PBN.com.