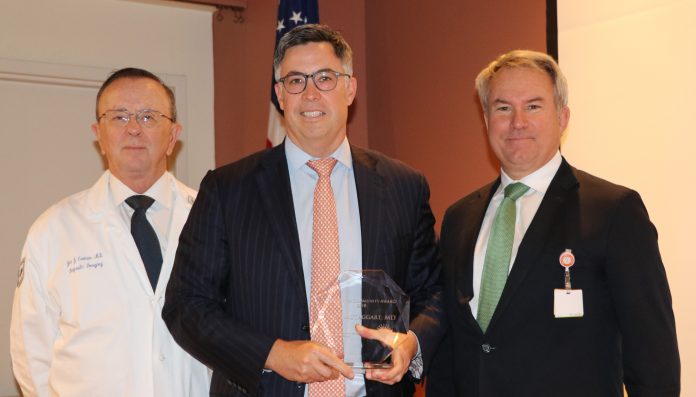 Rhode Island Medical Imaging (RIMI) radiologist Dr. Ryan McTaggart received Rhode Island Hospital's Service to Community Award for his leadership and contribution to humanitarian services yesterday, which was also World Stroke Day. Dr. McTaggart's stroke care program shines as a leader in life saving results.
"Rhode Island Medical Imaging is proud to have such a skilled radiologist on its team," said Dr. John Pezzullo, president, RIMI. "Dr. McTaggart has tremendous expertise in stroke care and clot removal. Patients in RI and the surrounding area get some of the best treatment in the world thanks to him and his neurointerventional colleagues Dr. Richard Haas and Dr. Mahesh Jayaraman."
Dr. McTaggart, is also the director of interventional neuroradiology at Rhode Island Hospital and is an assistant professor of diagnostic imaging, neurology, and neurosurgery at The Warren Alpert Medical School of Brown University. He was nominated for this honor by Dr. John Cronan, Radiologist-in-Chief at Rhode Island Hospital and Miriam Hospital, Professor and Chairman of the Department of Diagnostic Imaging at The Warren Alpert Medical School of Brown University.
"When Dr. McTaggart came to RI Hospital three years ago he started working with 51 fire departments and nine hospitals to change where stroke patients went to get the care they needed," said Dr. Cronan. "He was relentless and successful and now patients are getting better care and the expertise they need."
Dr. McTaggart's work at RI Hospital's Comprehensive Stroke Center has led to it being recognized as a health care leader which is helping set the national agenda in highly specialized stroke care. This Center provides care to more than 1,100 patients with stroke or transient ischemic attack (TIA) annually in Rhode Island and Southeastern Massachusetts.
Dr. McTaggart received his award at the hospital's Quarterly Medical Staff Association Meeting led by Dr. Charles McCoy, president of RI Hospital Staff Association.
About Rhode Island Medical Imaging:
Rhode Island Medical Imaging (RIMI) has a network of 12 private state-of-the-art medical diagnostic imaging facilities that are staffed by over 70 board certified radiologists with broad-based experience and subspecialty training in Bone Density (DEXA), Computed Tomography (CT), Magnetic Resonance Imaging (MRI) including the most extensive 3T MRI imaging network in Rhode Island, Mammography, Ultrasound, and X-ray.
RIMI radiologists perform and interpret imaging in Rhode Island at Hasbro Children's Hospital, Miriam Hospital, Our Lady of Fatima Hospital, Rhode Island Hospital, Roger Williams Medical Center, and Women & Infants Hospital, and most recently at Sturdy Memorial Hospital in Attleboro, MA. Most of RIMI's radiologists are also faculty members at the Warren Alpert Medical School at Brown University.
Celebrating its 75th anniversary this year, RIMI has provided Rhode Island with imaging excellence since 1943.