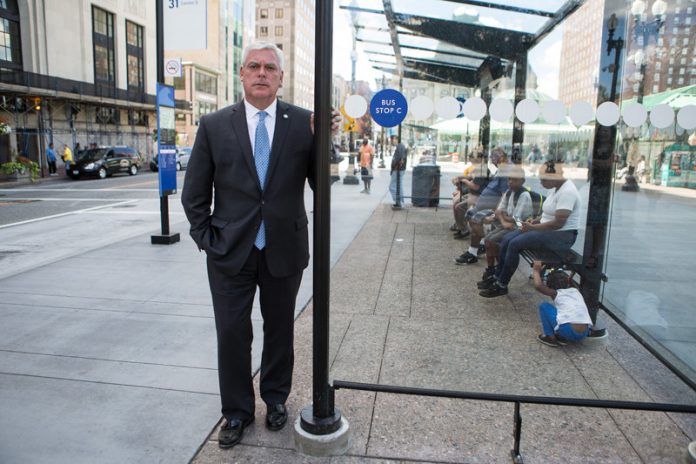 PROVIDENCE – The R.I. Public Transit Authority will offer two more trips on the Route 61X bus line to offer service to commuters who travel from Providence to the suburbs for work, RIPTA announced Tuesday.
The service typically catered to workers at some businesses and manufacturers in the Warren and Bristol area that traveled into Providence from the suburbs, entering into the city in the morning and returning to the suburbs in the afternoon.
The first of the new trips will leave from Stop X in Kennedy Plaza at 6:32 a.m., stop at TPI Composites Inc. at 6:50 a.m. and then continue along Route 136 in Warren and Bristol and then follow its normal route through Portsmouth to Tiverton.
"We're excited to put this change into place to try to better accommodate businesses such as TPI Composites and WaterRower," said RIPTA CEO Scott Avedisian in a statement.  "We're glad that the town and the businesses reached out to us to tell us their needs.  These kinds of conversations help us find ways to be creative and improve public transit connections to key job sites in different communities."
The inbound trip will leave from the Tiverton Fish Road Park N' Ride lot at 3:12 p.m. and arrive at Stop X in Kennedy Plaza at 3:59 p.m, stopping in Warren and Bristol on the way. The remainder of 61X routes will operate in the current schedule.
Both trips go into effect on June 24.
RIPTA said it will work with communities along the route to determine if additional bus stops will be needed on the new trips.
"RIPTA prioritizes [its] partnerships with local communities and makes a concerted effort to listen to [its] riders – these two new trips to Bristol/Warren are a direct result of that important work," said Gov. Gina M. Raimondo in a statement. "Engaging with the community to improve public transportation is critical, and I'm excited to see this get off the ground."
Chris Bergenheim is the PBN web editor. You may reach him at Bergenheim@PBN.com.