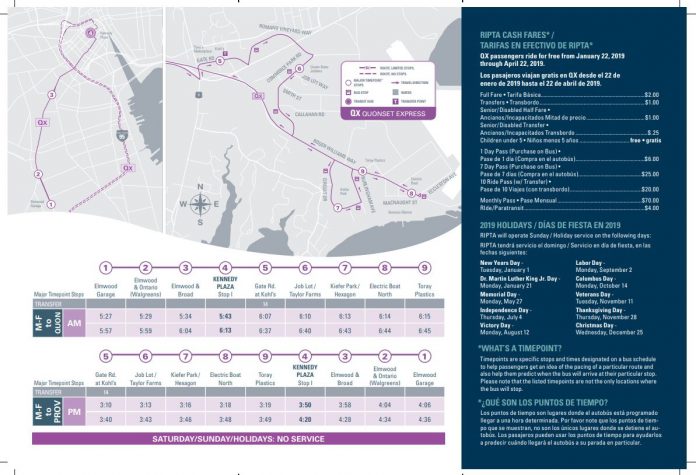 PROVIDENCE – A pilot program to bring bus service to businesses at Quonset Business Park in North Kingstown from Providence will begin Jan. 22, the R.I. Public Transit Authority and the Quonset Development Corp. announced Thursday.
The pilot program will run as a free three-month trial funded by federal grant money and a 20 percent match from the QDC. The weekday service will make two nonstop express trips from Kennedy Plaza to the business park in the morning, where it will make 11 different stops, and two nonstop express trips from the park to Kennedy Plaza in the afternoon.
In the morning, the bus service will depart Kennedy Plaza at 5:43 a.m. and 6:13 a.m. In the afternoon, the bus service will begin its rounds in the business park at 3:10 p.m. and 3:40 p.m.
"Typically, business parks are a challenge for public transportation because of the acreage they cover and the fact that they are often located away from urban areas," RIPTA CEO Scott Avedisian said in a statement Thursday. "It became clear through our conversations that the people who commute to Quonset needed a public transit option and RIPTA is happy to support economic growth in our state."
Avedisian added, "Our hope is that it will become a reliable commuting option for many employees at Quonset. We will be tracking the ridership so we can evaluate the effectiveness of this pilot service and our Commuter Resource RI team will continue to work with Quonset Development Corp. to explore other programs – such as our vanpool subsidy program – to give employees even more transportation alternatives."
Previous RIPTA bus service only ran via Route 14 to the western entrance of the business park, which consists of 3,100 acres.
"It's critical that the good-paying jobs we're creating are accessible for hardworking Rhode Islanders," stated Governor Gina M. Raimondo in prepared remarks. "No one should have to turn down a great job because they don't have a way to get there. This pilot program is just one step in our efforts to connect Rhode Islanders with economic opportunity through public transit."
The R.I. Commence Corp. and the R.I. Department of Labor and Training are expected to support the program by spreading awareness of the service to employers and employees.
Chris Bergenheim is the PBN web editor. Email him at Bergenheim@PBN.com.