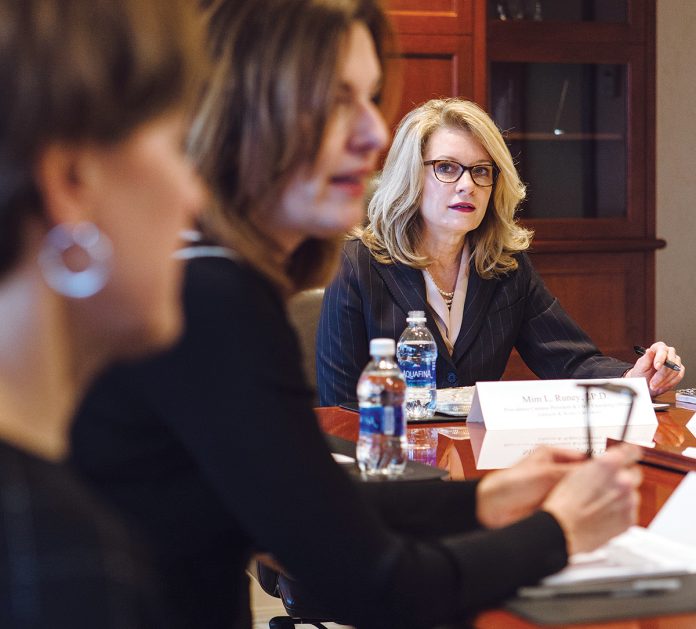 CAREER ACHIEVER | Mim L. Runey, Johnson & Wales University, chief operating officer
---
Mim L. Runey has worked for Johnson & Wales University – at some location, in some role – for 28 years.
That fact alone should speak volumes about the intensity and ongoing challenges in higher education as a form of constant engagement and opportunity. And it's the only place she's ever worked, which should say something about her job satisfaction.
Progress in meeting students' needs during her tenure shows that Runey is a strategist and change-maker. Student retention, graduation rates, assets and bond ratings all have increased on her watch.
A South Carolina native, Runey, president of Johnson & Wales in Providence and chief operating officer of its four-campus system, graduated from Clemson University and earned a master's degree in management from Webster University in Charleston, S.C. She got a doctorate in law and policy from Northeastern University in Boston, three years after packing up her family and heading north.
"I moved to Providence in 2006," said Runey. "My kids were 12, 9 and 3, and I had two cats and a dog."
Before that move, however, Runey had to make a bold leadership decision. She elected to close JWU's Charleston, S.C., and Norfolk, Va., campuses and start one in Charlotte, N.C. The closures became official in 2006.
"It was bittersweet, but an opportunity to build from the ground up, start again and have a permanent home," said Runey, "along with room for more growth and facilities that would continue to support our programming," as opposed to leasing an old tobacco factory in downtown Charleston's historic district.
Charlotte gave the university $40 million to make that city its new home, said Runey.
The new campus was a success in terms of enrollment, she said. Today the university has more than 14,000 students, with about 8,500 in Providence. It also has campuses in Denver and North Miami, Fla.
Johnson & Wales has an early legacy of internship, work-experience programming and an international presence. Both have grown during Runey's time at the helm. About 10 percent of the university's students are from more than 63 other countries. Its alumni are pursuing careers in 124 countries.
Though the school offers degrees in arts and sciences, engineering, education, business, health and wellness, and more, it's been known for its culinary program – and is working to broaden its image as a world-class university with excellence in many fields.
Runey hopes to build on that foundation and show how food is connected to so many other industries.
"Our strategic plan focuses on food and [how] food touches the world in different ways … the economy, health and wellness," Runey said. "It intersects with medicine, policy issues and hunger. There are opportunities to expand where food is and how it influences people. … Food can impact certain health challenges, can influence athletes, the brain."
Market demand also guides the university's programming.
The institution's physician assistant program is one such area where Johnson & Wales is making its mark. In 2014 the university was the first in Rhode Island to offer the accredited, two-year program, said Runey. At first, it got a quizzical reaction.
"We'd get the raised eyebrows, like, 'Why are you dipping your toe here?' But college health and wellness and culinary arts have a natural synergy," she said.
With more than 1,000 applicants, Johnson & Wales can only take 36 PA students each year. All have passed their PA exams on the first attempt, and of the first cohort, 11 went on to work in Rhode Island.
She may have been with the same employer for nearly three decades, but strategically, Runey has never stayed in one place with Johnson & Wales operations.
"Fields are very rapidly changing," she said. "The real key is to predict what is coming."

Want to share this story? Click Here to purchase a link that allows anyone to read it on any device whether or not they are a subscriber.