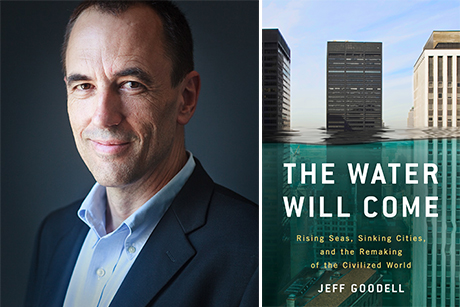 BRISTOL – A yearlong series of climate change-related events, courses, panel discussions and book talks hosted by Roger Williams University will commence Oct. 2 with a lecture by Jeff Goodell, author of "The Water Will Come: Rising Seas, Sinking Cities, and the Remaking of the Civilized World."
A journalist, contributing editor at Rolling Stone magazine and frequent contributor to The New York Times, Goodell will share his scientific research and reporting on climate change as well as his perspective on how to mitigate environmental impact and what's at stake if no action is taken.
Goodell's "The Water Will Come" was also chosen as the 2018-2019 RWU Common Reading program book, a title selected annually to unite discussion across the school's campus.
The 12-month series, entitled "Ocean State/State of the Ocean: The Challenge of Sea-Level Rise Over the Coming Century," will see campus-wide discussions of the impacts of rising seas on a state where most of the population lives near or along the coast.
"Roger Williams University is committed to fostering better understanding of the great challenges that face the modern world," said Andy Workman, interim president, in a statement. "We are proud to be able to bring the perspectives from multiple fields of knowledge to bear on one of the biggest problems that humanity will confront in the coming decades and invite citizens from around the state to join our students in learning how to address it."
The Oct. 2 event will be hosted on the Bristol campus in the Campus Recreation Center Fieldhouse at 7 p.m. A book signing will immediately follow.
Additional events in the series will be announced as planned by the university.
Emily Gowdey-Backus is a staff writer for PBN. You can follow her on Twitter @FlashGowdey or contact her via email, gowdey-backus@pbn.com.