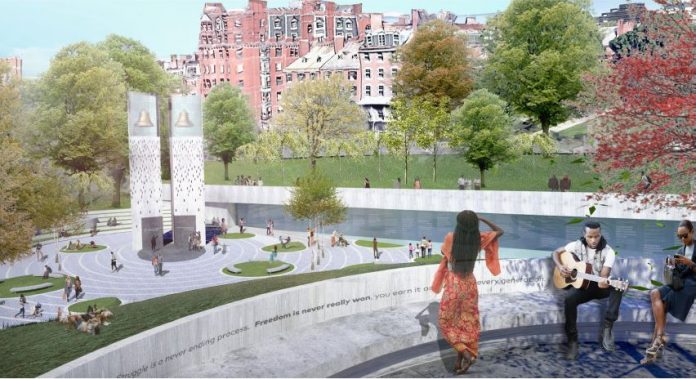 BRISTOL – A design proposal submitted by Roger Williams University professor of architecture Julian Bonder has been chosen among five finalists for the city of Boston's Martin Luther King Jr. memorial.
According to a late Wednesday statement from the university, "Ripple Effects: Voice, Love, Non-Violence, Fellowship, Community, Justice, Action," the design submitted by Bonder, was inspired by a quote from the late Robert F. Kennedy, a former U.S. attorney general and Democratic U.S. senator from New York, regarding the impact of activists' deeds and actions.
The design features two columns, called "Beacon Towers," which will be inscribed with quotes from both King and his wife and represent the time they spent in Boston while King studied at Boston University.
"This would be a living memorial that would be grounds for contemporary activism," Bonder said in a statement, a "place for continuing the struggle for civil rights."
Additional features of the design include an amphitheater space and room to gather for public events, a mound built with a nod to King's 1968 "I've Been to the Mountaintop" speech, as well as a "bridge" stretching from the Robert Gould Shaw and Massachusetts 54th Regiment Memorial on Beacon Street to the proposed Beacon Towers.
Submitted by Bonder through Wodiczko + Bonder, the architectural firm which he co-founded and where he now serves as a partner, was one of 126 submissions to the contest. The firm collaborated with Maryann Thompson Architects and Walter Hood, creative director and founder of Hood Design Studio in California.
Each of the five finalist designs can be found online.
Finalists' designs will remain on display and open for public comment at the Boston Public Library and the Bruce C. Bolling Municipal Building in the city's Roxbury neighborhood through Oct. 16. In November, a winner will be announced by city officials and members of Martin Luther King Boston, the nonprofit group leading the memorial initiative.
Emily Gowdey-Backus is a staff writer for PBN. You can follow her on Twitter @FlashGowdey or contact her via email, gowdey-backus@pbn.com.
Correction: Julian Bonder is a professor of Architecture at Roger Williams University.