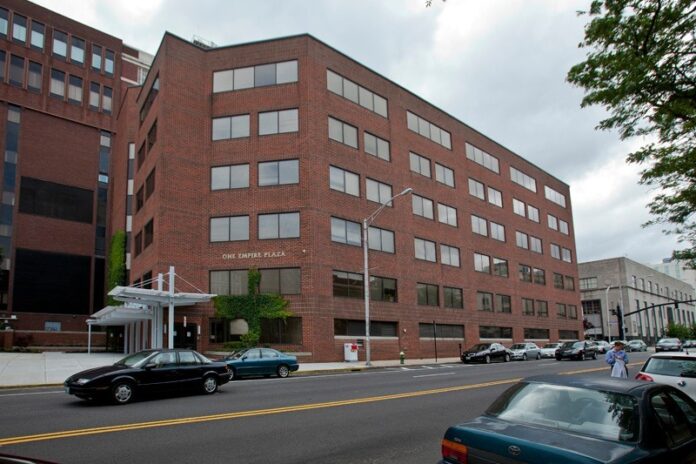 PROVIDENCE – A charter school with the backing of Roger Williams University that would cater to English language learners is one of five charter school proposals under consideration by the state Department of Education for the 2020-2021 school year.
The University High School would be located at RWU's Univerity College building at One Empire Street and would initially serve 50 students from Providence, according to the proposal filed last month with the state. Enrollment would ramp up to 200 students by fall 2024.
The school would be a year-round, dual-enrollment, mastery-based education, the proposal said. Students would have the opportunity to earn a high school diploma and an associate's degree at the same time.
RWU said University High School would operate as an independent and separate entity, overseen by an independent school committee chaired by Diony Garcia, a lawyer who was appointed a part-time judge in the city's Housing Court earlier this year.
University College received $300,000 from the Barr Foundation to develop the school's concept and assemble the proposal
"The need for University High School is clear and overdue," the proposal said, noting that the Providence Public School District serves the highest percentage of English language learners (51%) in the state and that there a growing "achievement gap" between those students and their English-proficient peers.
The five charter school applications are in the midst of an evaluation process. The Department of Education's Charter School Office is accepting written public comment until Nov. 1. There also will be two public hearing on each proposals.
Also, applicants, school districts, elected officials, government agencies and researchers were invited to submit "impact analysis statements" to the Department of Education by Friday.
The other charter school proposals are:
Mindy Independent, a kindergarten-through-fifth-grade school in East Providence that would serve 260 students from Providence, East Providence, North Providence, Pawtucket, Barrington, Bristol and Warren.
Nuestro Mundo Public Charter School, kindergarten-through-eighth-grade school in Woonsocket that would serve 414 students statewide with a dual-language curriculum.
The School of Global Leadership, sixth-grade-through-12th-grade school in Providence that would enroll 252 students, 50% of which would be native Spanish or Portuguese speakers.
YouthBuild Preparatory Academy, a ninth-grade-through-12th-grade school in Providence catering to young men of color.

Want to share this story? Click Here to purchase a link that allows anyone to read it on any device whether or not they are a subscriber.