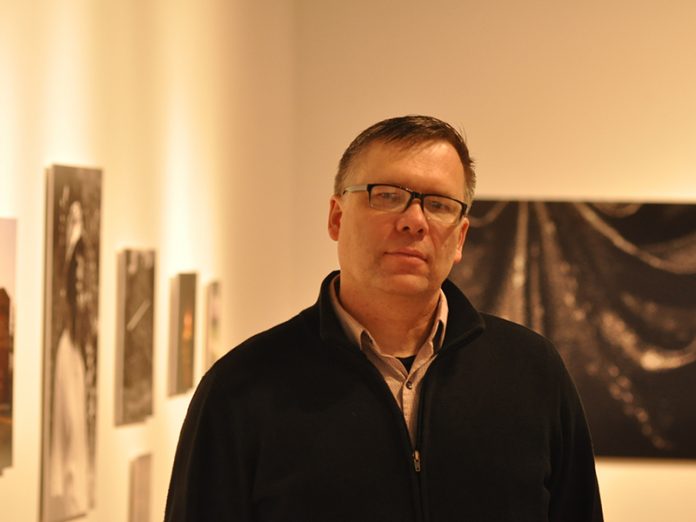 NEWPORT – Ernest Jolicoeur, assistant professor of art and director of the Dorrance H. Hamilton Gallery at Salve Regina University, has been awarded a $5,000 fellowship by the Rhode Island State Council on the Arts to support his studio work in painting.
Selections from Jolicoeur's ongoing "Erased Landscape" series have been included in the 2019 RISCA Fellowship Exhibition at the Warwick Center for the Arts, which runs through Sunday, March 31. Jolicoeur's work in this series features composite images of place shaped by layers of memory, observation and imagination.
"I am honored and grateful to have my artistic contributions recognized by the Rhode Island State Council on the Arts in 2019," Jolicoeur said. "RISCA's endorsement is truly impactful, not only on the development of my current work as a painter but on the growth and livelihood of the arts statewide."
Jolicoeur describes his approach to painting and drawing as a filtration process that enables him to hold onto experiences beyond the reach of photography.
"My images provide paths to locations lost," he said in a news release. "They serve as monuments of lived experience. Each is a composite of reflections and refractions. Each points to a place where the natural and built environment intersect, a place that sustains memory, imagination and image growth."
Jolicoeur, who has been teaching at Salve Regina since 2007, has a Bachelor of Fine Arts degree from Rhode Island College and a Master of Fine Arts from Yale School of Art. Among his numerous honors and awards, he was a 2017 recipient of the Antone Academic Excellence Award for Special Projects at Salve, a 2014 recipient of a fellowship in drawing from the Rhode Island State Council on the Arts, and a 2013 recipient of a merit fellowship in drawing from RISCA.
The RISCA fellowships are unrestricted awards that encourage the creative development of artists by enabling them to set aside time to pursue their work and achieve specific creative and career goals. One $5,000 fellowship grant and one $1,000 merit grant are awarded in each of 13 disciplines each fiscal year. The awards, selected through an anonymous panel review of submitted work samples, are based solely on artistic merit.
William Hamilton is a PBN staff writer. Email him at Hamilton@PBN.com.