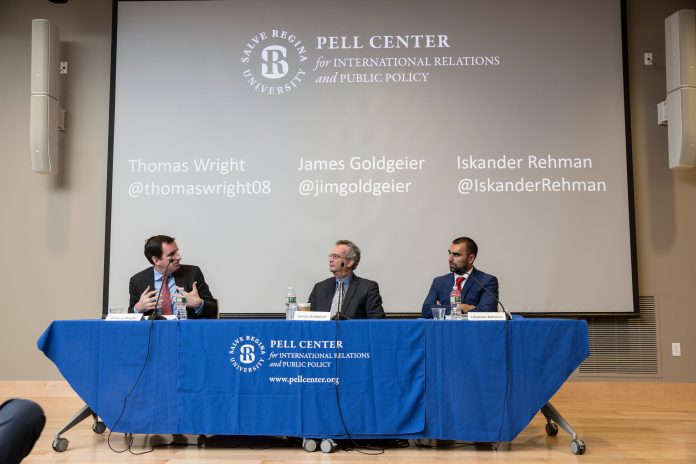 NEWPORT – Seven events were announced by Salve Regina University's Pell Center for International Relations and Public Policy in early August for the school's fall 2018 schedule.
The events are as follows:
Sept. 26 at 7 p.m.: Anatomy of a Genocide: The Life and Death of a Town Called Buczacz presented by Omer Bartov of Brown University
Oct. 3 at 7 p.m.: You Can Stop Humming Now: A Doctor's Stories of Life, Death and In Between hosted by Dr. Daniela Lamas, Brigham & Women's Hospital, Harvard Medical School
Oct. 10 at noon: Special Edition of Story in the Public Square hosted by former U.S. Secretary of State John Kerry (limited seats available)
Oct. 16 at 7 p.m.: The Fighters – Americans in Combat in Afghanistan and Iraq with C.J. Chivers, New York Times writer and Pulitzer Prize author
Oct. 24 at 6:30 p.m.: The Ghost Army – Documentary & Discussion hosted by Rick Beyer, author and award-winning producer, and co-sponsored with Salve's Department of Administration of Justice
Nov. 5 at 7 p.m.: The 2020 Commission Report on the North Korean Nuclear Attacks Against the United States with Jeffrey Lewis, East Asia Nonproliferation Program at James Martin Center for Nonproliferation
Nov. 14 at 7 p.m.: With US and Against US – How America's Partners Help and Hinder the War on Terror hosted by Stephen Tankel, senior fellow for a New American Security
Tickets to Pell Center events are free and become available two weeks prior to the date of the event. Advanced reservation is suggested on the center's Eventbrite page or by calling (401) 341-2927 or emailing pellcenter@salve.edu.
With the exception of the Oct. 10 Special Edition of Story in the Public Square, which will take place in the Ochre Court, the majority of this fall's events will be hosted in the Bazarsky Lecture Hall in the O'Hare Academic Center.
Emily Gowdey-Backus is a staff writer for PBN. You can follow her on Twitter @FlashGowdey or contact her via email, gowdey-backus@pbn.com.