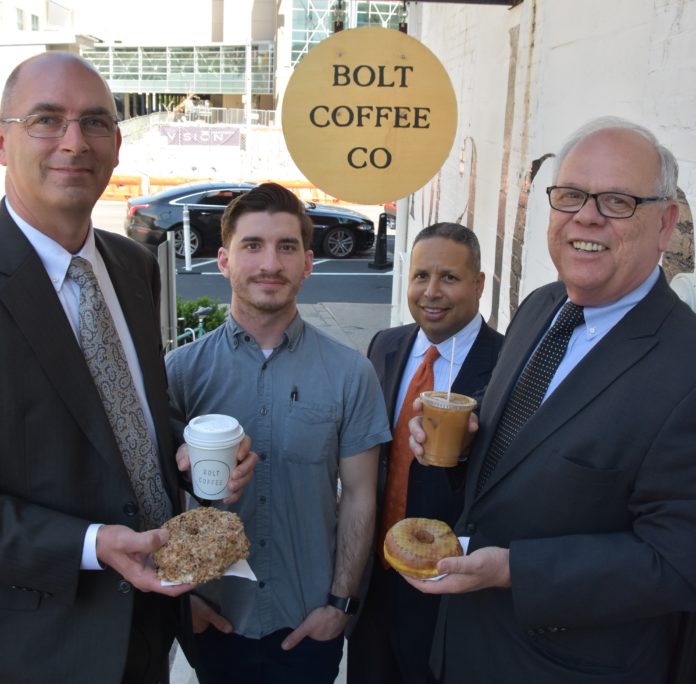 PROVIDENCE – Members of the R.I. Small Business Administration celebrated National Doughnut Day with Bryan Gibb and and Todd Mackey – owners of Bolt Coffee and the newly-opened gourmet Knead Donuts – offering weekday delivery.
Starting out in 2013, Gibb remembers working 11-hour days, seven days a week to build the Bolt Coffee brand and its financial base. Today, four years and a $27,000 SBA microloan through BankRI later, the pair manages two locations, one in the Dean Hotel the other in the Rhode Island School of Design's art museum.
"The loan was pretty vital in terms of what we were hoping to accomplish with our business," said Gibb in a statement. "If we didn't get the loan from SBA it's likely it wouldn't have happened."
SBA's microloan program provides financial support of up to $50,000, on average $13,000, to burgeoning small businesses and nonprofits looking to expand.
"It is the goal of the SBA to aid as many eligible small business owners as possible garner the capital they need." said R.I. district director Mark S. Hayward in a prepared statement. "To see Bryan and Todd take their microloan and grow Bolt Coffee the way they have is exactly what we like to see from anyone who attains an SBA loan and we hope that Bolt continues to thrive because of it."
Scott Lajoie, vice president of business lending for BankRI, said in a statement Gibb and Mackey are textbook examples of small business owners and "at BankRI, we believe that small businesses are the backbone of a thriving local economy and integral to the communities they call home."
Currently, Bolt Coffee is in discussions to open their third location.
Emily Gowdey-Backus is a staff writer for PBN. You can follow her on Twitter @FlashGowdey.