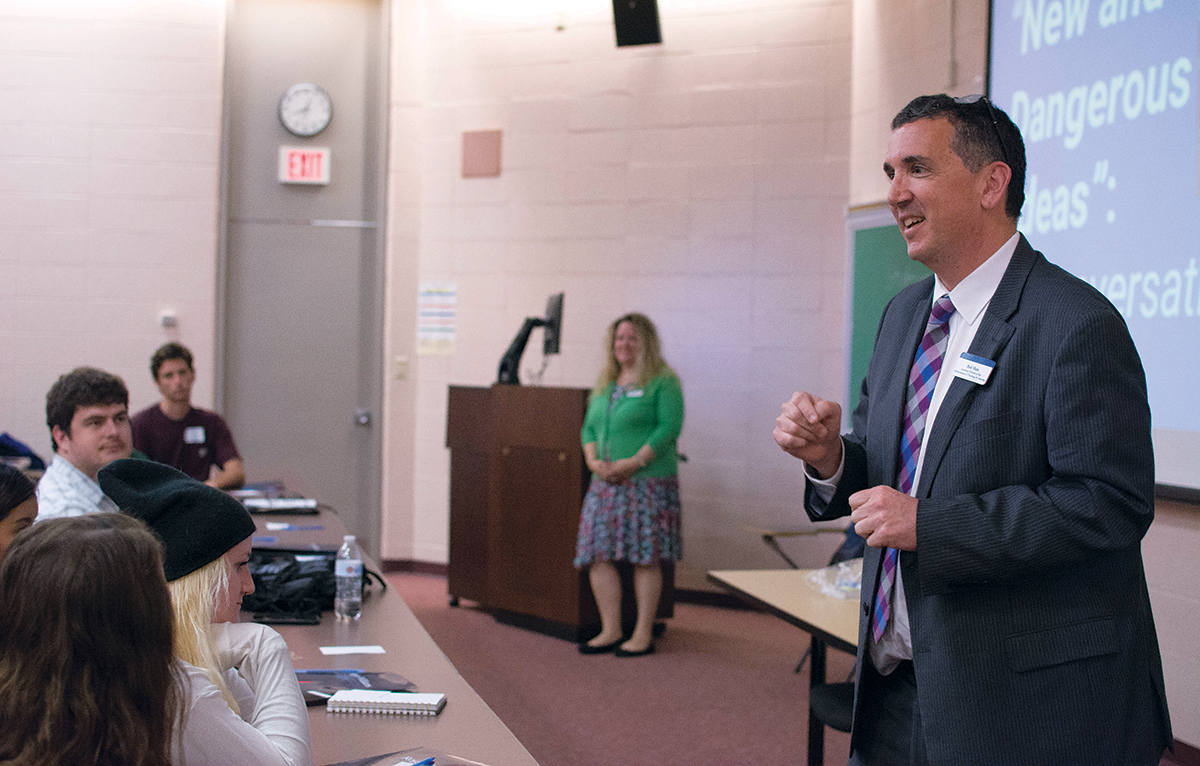 Joan Branham, Providence College associate dean of the School of Arts & Sciences, and Dan Horne, associate dean of PC's School of Business, knew the benefits of cross-departmental collaboration but weren't sure how to encourage it.
"Considering the diversity of research and teaching interests across campus, we really struggled thinking about how to find these rare but potentially productive matches," Branham told Providence Business News in a June 16 story published online.
The pair found their solution in the basic principles of speed dating: 10-minute interviews to determine if mutual academic interests existed between faculty.
One notable course born out of PC's speed-dating initiative is Rational and Nonrational Persusasion. The course, which focuses on how developments in brain science impact marketing practices, is taught by a philosopher, a neurobiologist and a marketer.
"This fantastic collaboration would never have come together without the recognition of shared connections during speed dating," said Horne.
Other Rhode Island schools are actively focusing on the importance of collaboration, both in the classroom and among faculty.
At Roger Williams University, students are taught the importance of collaboration from day one, said Robert Shea, associate provost for the advancement of teaching and learning.
"Most of the really vexing problems in our world are that because they defy easy, single-disciplinary solutions. The big questions [students] will confront require people with different expertise to come together," he said.
Their Roger Seminar, piloted in 2016 and taught by eight faculty members from various academic departments, introduces first-year students to the importance of Roger Williams as a historical figure by studying texts by Williams and those analyzing his role in local history.
Shea estimated half of the incoming class will participate in a Roger Seminar this fall.
In addition, as of June, the school's 18-month-old public health major – taught by biology, chemistry, biostatistics, sociology and anthropology, economics and psychology professors – has 41 students signed on as majors and 11 minors.
Also head of RWU's Center for Teaching and Learning, Shea hosted a lecture by Katie Linder, research director for the Ecampus Research Unit at Oregon State University, to more than 80 faculty members from local schools. The lecture discussed collaboration opportunities through hybrid course design. The lecture was the second such event co-sponsored by the attending schools.
The University of Rhode Island recently found successful faculty collaboration starts with the generation of big data. Through 10 cluster hires, in which faculty submit applications for new positions at the university, provost Donald H. DeHayes said the university has expanded its ability to pair methodologists, experts in big-data analytics, with researchers in fields they believe will benefit.
DeHayes noted the George and Anne Ryan Institute for Neuroscience was born from a collective interest in neuroscience, as reflected by cluster-hire applications. In addition, he said, partnerships have been rendered in health, oceanography and geoscience, as well as the analysis of online-shopping patterns.
New England Institute of Technology faculty are helping the school diversify its curriculum, especially in their health sciences departments, through small group meetings of faculty representing two or three disciplines building opportunities for cross-departmental collaboration.
In the two years Dayle Joseph, assistant provost and director of nursing, has been on campus she said the health sciences departments have gone from being "in silos" to working together more frequently.
For example, she said, one partnership being pursued is between the veterinary medicine and nursing programs. If a patient has an animal bite, explained Joseph, nursing students can tend to the wound while veterinary-medicine students can speak with the patient about proper vaccines and the health of the animal, if it is a pet.
While others look inward for collaboration, for the past four years Rhode Island College has fostered a partnership with the Central Falls School District that allows resources to be shared with corresponding departments in the local school system.
The only criteria, said Sue Pearlmutter, interim vice president of academic affairs, was each interested faculty member needed to partner with a Central Falls instructor. To date, pairs have addressed education, psychology, social work, dance and nursing initiatives that link the college with the local community.

Want to share this story? Click Here to purchase a link that allows anyone to read it on any device whether or not they are a subscriber.