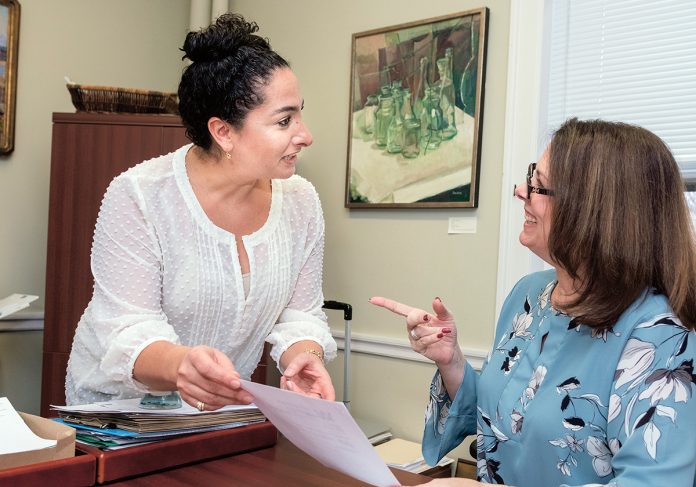 As co-founder of the Wheaton Institute for Interdisciplinary Humanities at Wheaton College in Norton, Touba Ghadessi knows all too well how the humanities have been overlooked in what she calls a "careerist age."
As students and companies are nearly single-mindedly focused on obtaining and retaining employment in the decade following the Great Recession, Ghadessi said the humanities are being overlooked as a pathway to a stable career.
Which is why Ghadessi jumped at the opportunity to work with 10 other New England-based higher education institutions with humanities centers as inaugural members of the New England Humanities Consortium.
With a memorandum of understanding signed in June, the consortium was announced in late September. Based at the University of Connecticut and headed by Michael P. Lynch, a professor of philosophy and director of the UConn Humanities Institute, it's start was supported by a $100,000 Andrew W. Mellon Foundation grant.
"The humanities have a PR problem," said Ghadessi. "Our job is to re-educate the public" about the connection between the humanities and the 21st-century workforce.
In addition to Wheaton, the 10 inaugural members that make up the consortium are: Amherst College, Colby College, Dartmouth College, Northeastern University, Tufts University, the University of Connecticut, the University of New Hampshire, the University of Rhode Island, the University of Vermont and Wellesley College.
For those who are well-versed in New England culture, and its many steeped halls of academia, not to mention home to the Ivy League, it may seem curious a collaboration such as this didn't exist prior to 2018.
'By promoting humanities research, we're promoting outside-of-the-box training.'
MICHAEL P. LYNCH, University of Connecticut Humanities Institute director
The reason, said URI's Annu Palakunnathu Matthew, a professor of art specializing in photography and director of the URI Center for the Humanities, is because schools have been protective.
"[They] have been territorial about their little ivory towers," she said, and "These collaborations are asking people to be a bit more open-minded about how we can all succeed together."
Small-scale collaboration was happening in a parochial sense, added Ghadessi, and participation in the consortium took "a little bit of humbling to realize … we actually do need each other."
After extensive research, Lynch said it was unique for this many schools to join together. He was aware of smaller groups that drew on administrative, geographic or mission similarities but none "promoting research and work in the humanities in the Northeast."
Jumping on the opportunity, he sent invitations to 35 regional schools with humanities centers to meet at UConn and discuss the idea.
While no additional schools have signed on as members since the September notification, Lynch said that's not for a lack of emails in his inbox. Since the fall, he has been inundated with requests from schools across New England wanting to partner with those which have already banded together. He is looking into ways to expand membership.
Humanities administrators are keenly aware of a national downtrend in the number of students graduating with degrees in their fields of expertise. A May 2017 American Academies of Arts & Sciences report found that in 2015 (the most recent data), following a decade of declines, the percentage of humanities degrees among all new bachelor's degrees rested below 12 percent – the first time since humanities tracking commenced in 1987.
Comparatively, more than triple the number of new humanities bachelor's degrees were awarded in the sciences (37 percent) that year. New humanities bachelor's degrees were also eclipsed by new business and management bachelor's degrees awarded in 2015 (19 percent). The disciplines that awarded fewer new degrees than the humanities in 2015 were natural sciences, health and medical sciences, engineering, education and fine and performing arts.
"The reason the trend is happening," said Ghadessi, "is the fear that these fields do not allow you to find a profession right after you spend a large amount of money on your education."
Concurring, Palakunnathu Matthew said: "When education costs are really high, it's easier to justify going into a major that has a defined career path. For the humanities, because there are so many paths for jobs, that path is not as clear."
However, both agree the analytical skills instilled while studying humanities disciplines are important steps in preparing for a "nimble" career across multiple industries, Palakunnathu Matthew said.
Lynch argues humanities degrees are equally applicable to careers in technology and digital innovation as they are to those steeped in history, languages or literature.
"By promoting humanities research, we're promoting outside-of-the-box training," he said.
While Lynch says the consortium will not undertake many major projects during its infancy, the initial pilot projects – mentoring and research opportunities for humanities professors of color in New England and a traveling lecture series among consortium schools – will be augmented by a program placing consortium school postgraduate humanities students in teaching positions at fellow member institutions.
Emily Gowdey-Backus is a staff writer for PBN. You can follow her on Twitter @FlashGowdey or contact her via email, Gowdey-backus@PBN.com.