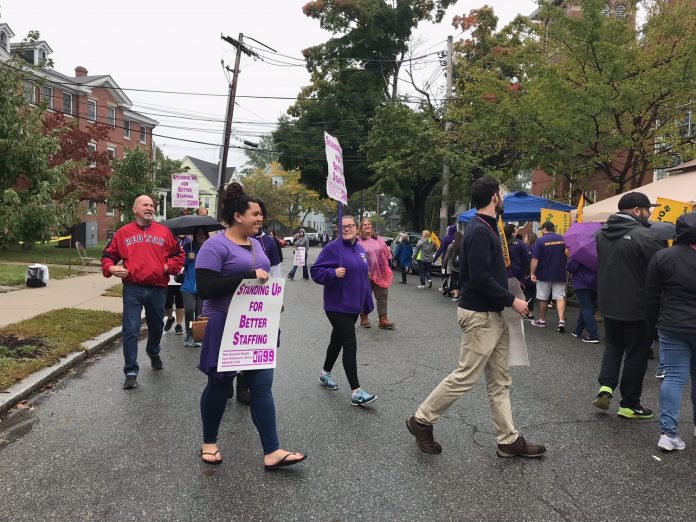 PROVIDENCE — Groden Center behavioral specialists represented by District 1199 SEIU New England and the Groden Network have reached an agreement on a three-year contract including language giving staff a stronger voice addressing safety concerns and raising wages by an average 10.8 percent over the life of the agreement for most of the bargaining unit.
Union members will vote on whether to ratify the agreement Friday.
District 1199 SEIU spokesman Emmanuel Falck said about 40-45 of the 60 behavioral specialists received an average $1.36 increase per hour. The rest of the employees, received an $1.06 increase per hour.
He said the agreement also puts a process for employees to bring their concerns to the attention of management in writing, in a way they're confident those concerns will be respectfully received.
The agreement, reached late Tuesday night, according to SEIU spokesman Emmanuel Falck, ends a months-long labor dispute between behavioral specialists and clerical staff and management of the Groden Network after the workers' contract expired at the end of June. The dispute erupted into a one-day strike Aug. 17 and a three-day strike Aug. 2-5.
"We are happy to have come to an agreement and we look forward to having the contract ratified Friday," said Catherine Nassa, director of marketing and development at the Groden Network.
The Groden Center schools, part of the Groden Network, provide a range of individualized services to children and youth with autism, behavioral disorders and developmental disabilities and their families.
"We are glad to have reached an agreement that will increase low wages, which will hopefully reduce high turnover and help our students get the consistency they deserve.  We are also proud to have a contract that will address safety concerns and allow Groden staff to provide a voice for students and advocate for safer classrooms," said Sam Lozeau, Behavior Specialist at the Groden South School in Coventry.
Groden staff had been fighting to address high turnover they said was caused by near-poverty wages at the Groden Network and the overuse of less qualified temporary staff which was threatening classroom safety. The situation compromised the safety of students in the schools, the union asserted, since consistency in staffing and services is vital for children with Autism.
"Behavioral specialists and clerical staff stayed united and were able to win a contract that moves workers forward and addresses safety concerns we have for our students," said Kaile Bautista, a north behavior specialist at Groden North in Providence.
Rob Borkowski is a PBN staff writer. Email him at Borkowski@PBN.com.