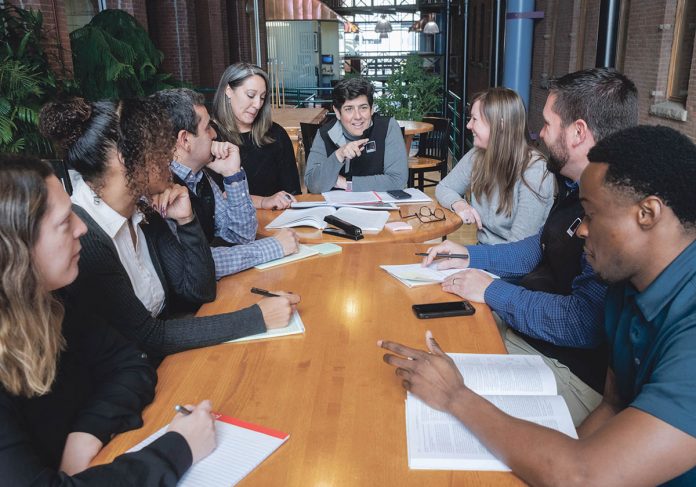 ARCHITECTURE / DESIGN / CONSTRUCTION Shawmut Design and Construction
As an employee-owned, profit-sharing company, Shawmut Design and Construction offers opportunities for diverse candidates to break into a field in a predominately all-white, male industry.
"This is my first time working in this environment, and it's really special. We take care of employees and they take care of it as if they own the place. That makes them very happy on the job," said Marianne Monte, the firm's chief people officer for three years.
The architecture, engineering and construction industry workforce is 9 percent women, according to the U.S. Bureau of Labor Statistics, but Shawmut is now 35 percent female, which Monte said is just a start. According to the BLS, the industry, including trade and subcontractor counts, is made up of 19.6 percent nonwhite workers. Shawmut is made up of 15 percent nonwhite members.
A $1.2 billion national construction-management firm, Shawmut Design and Construction's projects can be seen anywhere from Fifth Avenue in New York City to Rodeo Drive in Beverly Hills, Calif., and locally at places that include Brown University, Wexford Science and Technology, Rhode Island School of Design and Providence College.
Since Shawmut's founding in Boston in 1982, with principal offices there and a significant Providence presence, CEO Les Hiscoe has treated the company's 1,504 employees as its greatest asset, Monte said. He holds meetings several times a year to update them on the company's progress and plans, she said.
Diversity concerns have a direct influence on the company through Shawmut's 14-member Diversity Leadership Council. The body is comprised of seven men and seven women who represent the internal, construction and field-operation employees. The council is accountable for driving Shawmut's diversity and inclusion strategy and efforts.
Its revenue-sharing program allows individuals from diverse backgrounds to achieve long-term wealth for themselves and their families, especially given that many weren't born into wealth. Sharing in the company's profits stands to change the outcome for their families, Monte said.
To meet the scheduling needs of a diverse workforce, Shawmut Flex, a program helping employees perform their work remotely or during unusual and shifting schedules, was developed to improve performance and work-life balance.
"We don't check to see whose car is in the parking lot or who is sitting at their desks," said Monte. "We know there are going to be late nights and early mornings."
Shawmut's talent cycle and leadership-development programs are designed to attract and maintain a diverse workforce.
"Diversity is consistently part of training," said Monte.
The company also aims to develop a mentoring program to help attract more-diverse candidates, she said.
Within the industry, Shawmut regularly partners with national associations to help evolve with the challenges and opportunities reflected in today's architecture, engineering and construction industry, Monte said. One example is The Society of Women Engineers, an educational and service organization with more than 37,000 members centered around empowering women and demonstrating the value of diversity and inclusion in the workplace.
In its recruiting efforts, Shawmut partners with colleges, universities and other entities where offices are located, including Providence's Building Futures program. The initiative offers union apprenticeships for individuals with low incomes, providing 200 hours of basic construction training with courses in safety, job rights and labor history. Shawmut has numerous projects in Providence, including at Brown, PC, and Johnson & Wales University, that have participated in Building Futures.
The company also regularly partners with philanthropic organizations such as Posse, Summer Search and ACE Mentorship, which focus on minority students to provide extensive training opportunities, internships and full-time jobs.
Shawmut also solicits proposals from certified minority business enterprise and women business enterprise construction subcontractors and design consultants.
"Shawmut actively searches for next-generation leaders, including those who are women or underrepresented minorities," Monte said.
Company leadership considers a diverse and happy workforce a huge recruiting benefit that pays off in attracting talent.
"The highest number of employee hires are from referrals," said Monte. "They love it here and tell a friend about it."