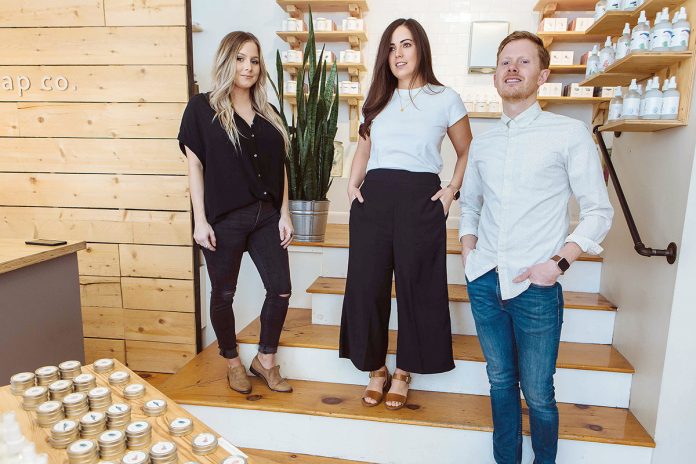 For Jake and Steph Kopper, the entrepreneurial spark came from a gift of luxury soap.
Interested in obtaining more but turned off by the price tag, explained Jake Kopper, the couple researched soap-making techniques and began churning out 12-bar batches for friends and family. Impressed with the homemade product, the recipients suggested the husband and wife duo turn their hobby into a business.
At the time, in 2013, "there was a market" for high-quality, natural-ingredient, boutique-style body and home products in Newport, he said, because of the local tourism.
After tinkering at home with a few recipes, the couple opened a brick-and-mortar shop on Thames Street with an initial line of hand soaps, lotions, body balms and butters. As interest rose, he said, they "quickly added more" to keep the shelves stocked.
Today, Shore Soap Co.'s inventory ranges from scented candles to vitamin-enriched body oils, shampoo and conditioner bars, a sugar-based body scrub and solid fragrance bars. Best-sellers include bar and liquid soaps, as well as candles.
The company even manufactures Tick'd Off, an essential oil blend designed to deter ticks and fleas from attaching to pets.
There are 12 signature Shore Soap fragrances – ranging from Atlantic to Mermaid Kisses and Warm Sand – featured across the company's spectrum of products.
Harkening back to that first bar of gifted soap, Kopper said a major element of their business model was to keep the price point "reasonable," creating an opportunity for unique items to be "accessible to more people."
With a bottle of Shore lotion ringing in at $22, he admits similar products can be found less expensively, but added: "We're handcrafting this stuff and it's a better product in the end."
In 2013, at the time of their launch, Kopper attempted to work both in his prior industry, web design, and manufacturing inventory, as well as working at the shop. However, "Within a year to a year and a half, we were busy enough for me to [transition to] full time" with Shore Soap.
Kopper's products are sold wholesale up and down the East Coast and across the United States at independent boutiques, as well as home goods and bath and body shops. California, Utah, Arizona, South Dakota and Missouri are among the states to stock their products.
After viewing the now-viral video of a turtle injured by plastic debris, the couple sought to reduce the amount of plastic they include in their packaging.
"We try to eliminate plastic in our products whenever we can," Kopper said. For example, the body butter used to be packaged in a plastic container but now is housed in a biodegradable, cardboard tube.
With the #cleantheshore campaign, they hope to raise awareness of water pollution worldwide. The company's website features statistics about the rate of plastics pollution in the world's oceans and its effect on marine life and the human diet.
Kopper would like to devote even more time to the endeavor, but for now said he has all he can handle "meeting demand."
Owners: Jake and Steph Kopper
Type of Business: Bath and beauty, home goods
Location: 302 Thames Street, Newport
Employees: Five (varies seasonally)
Year Established: 2013
Annual Sales: WND