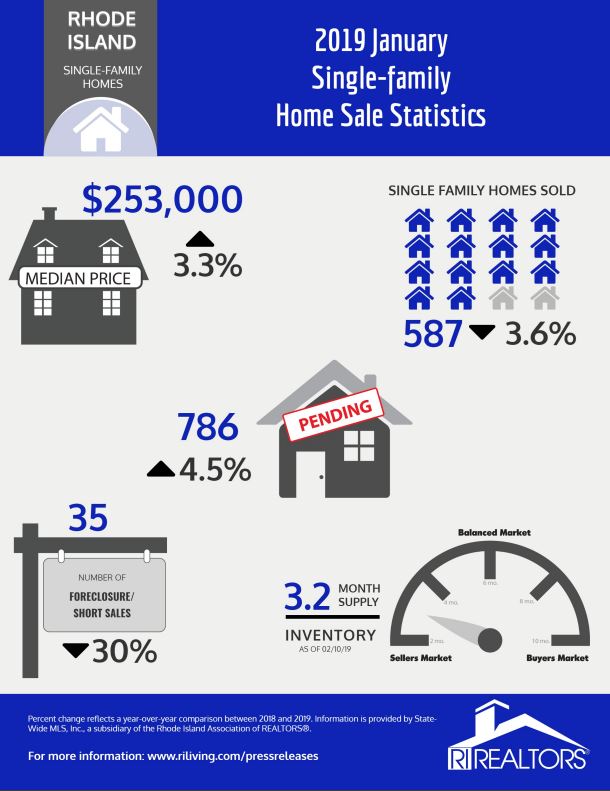 PROVIDENCE – The median price of a single-family home in Rhode Island increased 3.3 percent year over year in January to $253,000, according to the Rhode Island Association of Realtors Thursday.
The number of sales of single-family homes in January was 587, compared with 609 sales in January 2018. There were 2,790 properties listed in January, an 11.7 percent increase listings a year earlier.
The median price of a Rhode Island condominium in January was $225,000, a 4.7 percent increase from January 2018. The number of condo sales in the month was 125, a decline from 145 sales one year prior. There were 668 listing in January, a 2.6 percent year-over-year increase.
Multifamily homes saw a 7 percent gain to 153 in January. The median price of a multifamily home increased 17.3 percent over the year to $264,000. There were 467 multifamily home listings in January, an increase 0f 12.8 percent from one year prior.
"Fewer homes and higher prices priced out many first-time homebuyers in 2018, but we're hopeful that continued growth in inventory will provide buyers with more choices in the 2019 spring market," said Dean deTonnancourt, president of the Rhode Island Association of Realtors. "For those priced out of the single-family market, multifamily properties have been especially attractive, as first-time buyers can reduce their housing expenses by collecting rental income."
Chris Bergenheim is the PBN web editor. Email him at Bergenheim@PBN.com.