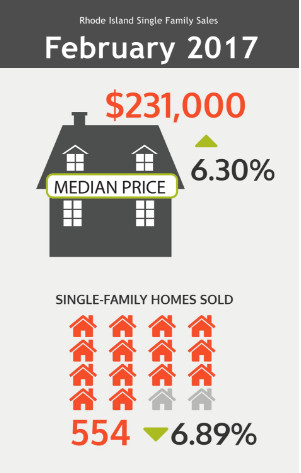 WARWICK – Single-family home sales fell 6.9 percent in February compared with February 2016, but the median sale price climbed 6.3 percent during that same timeframe, the Rhode Island Association of Realtors said Wednesday.
Single-family home sales totaled 554 in February, 41 fewer than in February 2016. Nationwide, sales climbed 5.8 percent.
The median sale price of a single-family home in Rhode Island reached $231,000, compared with $217,300 in February 2016. That's $2,000 higher than the national median sales price, the association said.
Providence (excluding East Side sales) had 31 single-family home sales in February, a 20.5 percent decline over the year, but at the same time the median sales price increased 36.7 percent to $149,000. The East Side of Providence saw five single-family home sales, a decline of 16.7 percent over the year, and an 11.1 percent decline in median sale price to $340,000.
Sellers continue to have a "significant advantage," according to the association, which said there was a three-month supply of homes on the market in mid-March. A six-month supply is considered to be a "balanced" market between buyers and sellers.
Rhode Island home sales were affected by declining inventory, as there were nearly 20 percent fewer single-family homes for sale last month compared with a year earlier.
Inventory has fallen every month for the past 26 months with the exception of February 2016, the association said.
Condominium sales also decreased over the year, but only slightly, falling to 106 from 107. Condos also saw a 10.5 percent increase in median price, to $210,000 from $190,000. The supply of condos on the market fell 8 percent from the prior year.
"It's basic economics. When there's a good deal of demand, but supply is low, prices go up. That's what we're experiencing in Rhode Island's housing market right now. That's great news for homeowners whose equity is rising, but it's not good for buyers who have limited choices and stiff competition when they do find a home that they like," Brenda Marchwicki, president of the Rhode Island Association of Realtors, said in a statement.
East Greenwich, West Warwick and Charlestown saw the greatest jumps in single-family median sale price in February at 129.6 percent, to $465,000; 107 percent, to $202,000; and 102.7 percent, to $445,900, respectively.
Multifamily property sales increased 4.6 percent over the year to 115 from 110. However, the number of multifamily properties available for sale last month fell 20 percent from the same time last year, and the median sales price climbed 9 percent, to $180,000 from $165,000.
Marchwicki said multifamily property sales are being boosted by investors looking to enter the strong rental market.
"One of the downsides of this is that investors are typically in a better financial position than first-time buyers to purchase these properties. That leaves the entry level market with even less options. It's really important today that buyers bring their A game … be prequalified, know their budget and be ready to move on a property if an opportunity presents itself," she said.