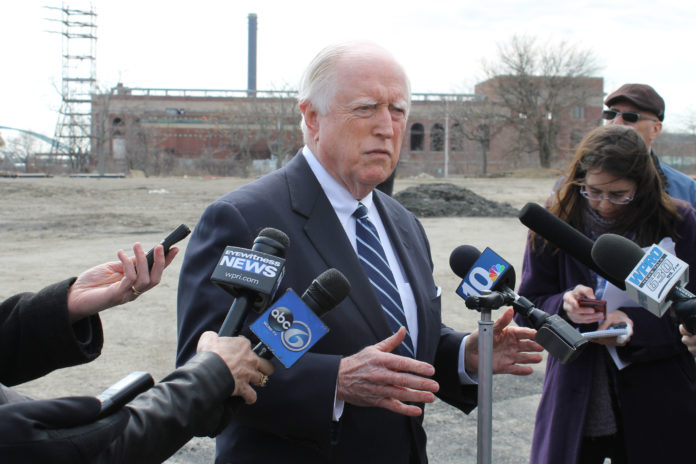 PROVIDENCE – The proposed downtown Providence site for the Pawtucket Red Sox ballpark is large enough and suitable for the facility, and will have sufficient parking and traffic circulation, the team's president announced Thursday.
In a tour of the site, overlooking College Hill and the Providence skyline, attorney James J. Skeffington said consultants had determined the seven-acre proposed site will support the baseball park that team owners want to build.
In addition, he said, team owners have reached an agreement to use the parking garage planned for the South Street Landing project, now under construction on an adjacent site. Under the plan, the parking garage will be enlarged to 750 spaces, to accommodate the baseball traffic, he said, and the PawSox owners will contribute financially to its construction.
The anticipated cost range for the ball park remains $60 million to $70 million, although the project has not yet moved to design, Skeffington said. He would not discuss specifics of the financing, including whether the state or city will be asked to approve financial incentives to move the team from its existing base in Pawtucket. Financial details will be made public in mid-April, he said.
He would not identify an alternate location for the team, if the project fails to move forward in Providence.
"Obviously, if Plan A doesn't work, we'll have to have a Plan B."
The ballpark will be within walking distance of several thousand people who live and work downtown, and readily accessible to public transportation, Skeffington said.
"Not only is this site acceptable for a ballpark, not only can it accommodate the type of ballpark that we'd like to build here, it's better than that. It's one of the best sites that many of our consultants have seen when they've assessed the prospect of building a ballpark downtown."
The architecture company hired to design the ballpark is Populous, which Skeffington described as one of the largest architects of stadiums and ballparks in the U.S.
The project team is expected to include Gilbane Building Co. in Providence.
The stadium is expected to accommodate up to 10,000 people for baseball games, as well as up to 12,000 people for college football and concerts.
Now, about half of the visitors to McCoy Stadium in Pawtucket are from Massachusetts, Skeffington said. If the park is built in Providence, where it will enjoy visibility from major highways, including Interstate 195, the share of the tickets sold to Massachusetts residents is expected to increase, he said.