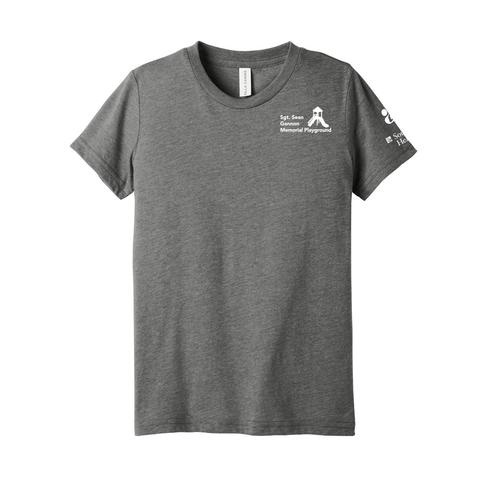 NEW BEDFORD – Patrick and Denise Gannon, parents of slain Yarmouth Police Sgt. Sean M. Gannon, work at Southcoast Health as chief quality officer and emergency department patient ambassador at St. Luke's Hospital, respectively. Southcoast Health is selling T-shirts to fundraise in support of constructing a memorial playground at Campbell Elementary School in their son's name.
Sean Gannon, a member of the police department's K-9 unit, was shot and killed in April while serving a warrant in Barnstable, Mass. His dog, Nero, was also shot but survived his injuries.
The T-shirts are available for purchase at the Southcoast More Store and sell for $25, with shipping included. The shirts come in male, female and youth styles and sizes, and sport a logo depicting a covered slide and the playground's name over the left breast. Proceeds from the T-shirt sales will aid the construction of the Sgt. Sean M. Gannon Memorial Playground at the school, where Sean Gannon played as a boy.
"Employees at Southcoast Health were deeply affected by the tragic death of Sgt. Gannon, whose parents both work for the organization," said Keith A. Hovan, president and CEO of Southcoast Health. "We wanted to pay lasting tribute to Sgt. Gannon, and this project is just one opportunity to do so while fulfilling our mission of promoting health and wellness within our community."
"We are very excited to partner with Southcoast Health. We feel that in order to encourage our youth to stay active and healthy, we need to make sure that we give them the tools and creative spaces to do so," said Carla Mourao, chairperson of the Sgt. Sean M. Gannon Memorial Playground Committee. "The support that Southcoast Health is providing to help build this special playground will allow us to keep our youngest citizens physically active, engaged in their community and healthy. This playground will continue Sgt. Gannon's lasting legacy of serving others and improving our community."
The Sgt. Sean M. Gannon Memorial Playground Committee is made up of parents, teachers and community members. The school is located at 145 Essex St. in New Bedford.
Rob Borkowski is a PBN staff writer. Email him at Borkowski@PBN.com.