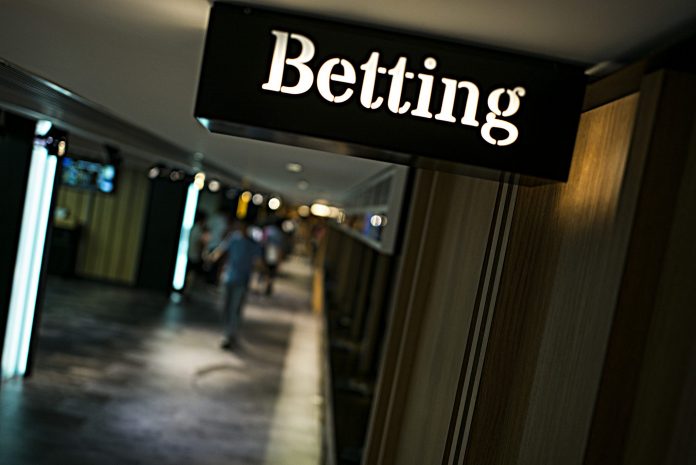 LINCOLN – Live sports betting launched at Twin River Casino Monday at an event with House Speaker Nicholas A. Mattiello and Senate President Dominick J. Ruggerio placing first bets for charity.
The ceremony was held in the Phase I area of a sports betting area in the casino.
"Twin River is a great partner of the state of Rhode Island," said Mattiello at the event. "This is a great opportunity for our citizens, as they are going to be able to [bet] legally."
"I've waited 40 years for this," Ruggerio quipped. "This is a great asset to the state of Rhode Island and to the community," he added, citing the launch as a great source of revenue for the state, predicting that the revenue from sports betting will only improve over time.
The launch marks the first live sports betting opportunity in the region.
Ruggerio noted that the legalization is important – saying that the move could mitigate money being bet in Rhode Island illegally and channel it into state revenue.
John E. Taylor Jr., executive chairman of Twin River Worldwide Holdings Inc., parent of the casino, made the first bet, selecting the Rhode Island chapter of the American Red Cross as his charity – placing $20 on the Celtics in a points-spread wager against the New Orleans Pelicans. The casino's spread was not immediately available. ESPN Monday said casinos had the Celtics as 1.5 to 2 point underdogs.
Mattiello picked the Cranston Animal Shelter and also bet on the Celtics against the point spread Monday evening.
Ruggerio bet for the Rhode Island Community Food Bank, picking the Houston Texans for Monday Night Football over the Tennessee Titans. The Texans were favored by between 3.5 and 4 points per ESPN Monday.
In addition to any winning bets, the casino will donate $500 to the charities.
Previously, negotiations between R.I. Lottery and International Game Technology PLC produced a five-year contract in which budget-mandated revenue allocations from sports betting fall as follows:
State: 51 percent
Vendor: 32 percent
Casino: 17 percent
The contract includes options for two five-year extensions.
Chris Bergenheim is the PBN web editor. Email him at Bergenheim@PBN.com.