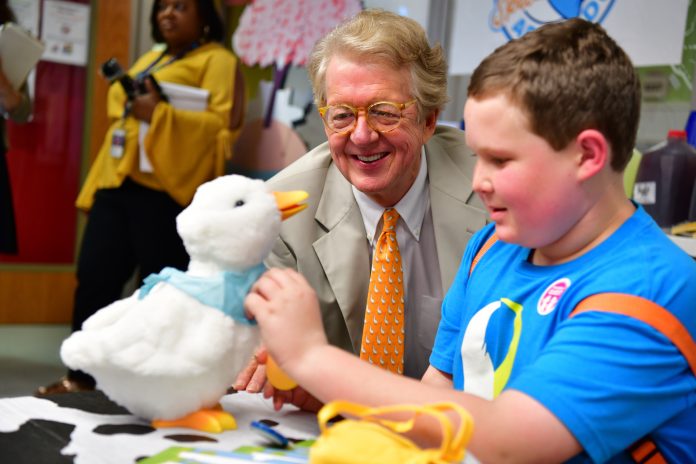 PROVIDENCE — Providence R&D workshop Sproutel Inc. made the first deliveries of its "smart" robotic companion, My Special Aflac Duck, for children fighting cancer to patients at the Aflac Cancer and Blood Disorders Center in Atlanta Thursday, emotional support that'll soon be available free to any child cancer patient aged 3-13.
The event began with a spotlighted "duck signal" pointed onto the CHOA building. Then, children and their parents went on a scavenger hunt, following clues throughout the hospital leading to their own My Special Aflac Duck.
Aflac Inc. unveiled the smart duck at the Consumer Electronics Show in Las Vegas on Jan. 8, where it won a won a CES Innovation Award in the Tech for a Better World category.
According to the Aflac childhood cancer campaign, more than 80 percent of childhood cancer patients survive the disease, but face a long, difficult treatment process and most experience life-long consequences. The interactive smart duck moves naturally and "plays," to comfort children with cancer as they endure treatments and doctor visits. The ducks come with round cards signifying children's feelings that, when touched to the duck's lighted heart, changes the duck's mood to reflect that feeling, helping children communicate their emotions.
The innovation, Aflac says, is the result of a year of child-centered research and has four patents pending. Aflac, which has contributed more than $125 million over the last 23 years to treating and curing pediatric cancer since 1996, will expand its My Special Aflac Duck campaign to hospitals across the country, providing one to any newly diagnosed child, ages 3-13, free of charge.
"There are currently 10,000 My Special Aflac Ducks in Columbus, Georgia and Aflac plans to begin distributing them as early as October. Our goal is that every child, ages 3 and above, newly diagnosed with cancer in the U.S. will receive their very own My Special Aflac Duck on an ongoing basis," said Aaron J. Horowitz, CEO and co-founder of Sproutel.
Aflac wanted to evolve their childhood cancer efforts beyond philanthropy to include programs that could make a direct and immediate impact in the lives of children with cancer, said Horowitz. The company determined pediatric cancer patients were in need of and under-served in emotional support during their treatment.
"As a result, they reached out to us after seeing our first product, Jerry the Bear a companion for children with type 1 diabetes, and asked us if we might be able to create something similar for children with cancer," Horowitz said.
"The first chance to see My Special Aflac Duck in the arms of patients makes today a red letter day. To expand the Aflac Duck's role to that of a tangible companion through the cancer journey of brave and special patients here and beyond is a wonderful opportunity for our duck and for Aflac," The Aflac Foundation, Inc. President Kathelen Amos said.
"It is an overwhelming and almost indescribable feeling to see a child smile because of something that you've had a part in creating. When I saw Teryn, one of our early beta testers, receive her duck yesterday as part of the first duck distributions I shed tears of happiness," Horowitz said.
Rob Borkowski is a PBN staff writer. Email him at Borkowski@PBN.com.