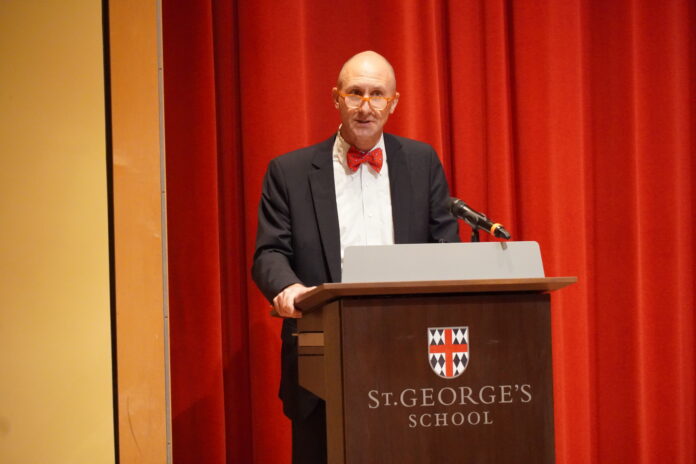 MIDDLETOWN – The leader of a New York-based independent school will make his way to Aquidneck Island and become St. George's School's new head of school.
St. George's recently announced that Michael C. Wirtz, who has been the head of school at Hackley School in Tarrytown, N.Y., has been named the local private boarding school's 13th head of school. Wirtz will on July 1 assume the role once held by Alixe Callen. Callen, who has led St. George's since 2017, became the head of school at Milton Academy in Milton, Mass., her alma mater.
Callen made $583,722 in 2021 as St. George's head of school, which includes an estimated $162,552 in additional compensation, according to the school's 2021 990 form filed in May 2022 – the latest such 990 form publicly available.
During his time at Hackley School, Wirtz, St. George's says, led an inclusive strategic planning process that helped implement the school's current strategic plan. Through that plan, Hackley elevated creative arts and computer science at the school, as well as built relationships with various community partners, St. George's said.
Wirtz also led various construction projects at Hackley, St. George's said. Among them was a 115,000-square-foot Johnson Center for Health and Wellness, the construction of 12 additional faculty housing units on campus, and most recently, the design and initial phases of construction of the Center for the Creative Arts and Technology.
In a Q&A with St. George's, Wirtz said he was drawn to St. George's because of the school's size and its foundations as an Episcopal school that foster a "sense of community united in shared values."
"I find personal and professional resonance with the idea of constructive service to the world, a line from St. George's mission that aligns with the reason I moved from the research lab to the classroom to start a career in education," Wirtz said in a statement.
Wirtz also said he wants to approach his first year at St. George's as a "scientist" by making observations and collect data about the campus community. He says the school has "tremendous ambitions" for its educational programs and for the "continued growth of faculty and staff."
"There is a lot of wisdom and history within the student body, adult community, and the St. George's alumni body," Wirtz said. "I am eager to hear their stories, both what is working, what did not go well or was difficult, and thoughts on the ways we might make the school better going forward."
James Bessette is the PBN special projects editor, and also covers the nonprofit and education sectors. You may reach him at Bessette@PBN.com. You may also follow him on Twitter at @James_Bessette.

Want to share this story? Click Here to purchase a link that allows anyone to read it on any device whether or not they are a subscriber.