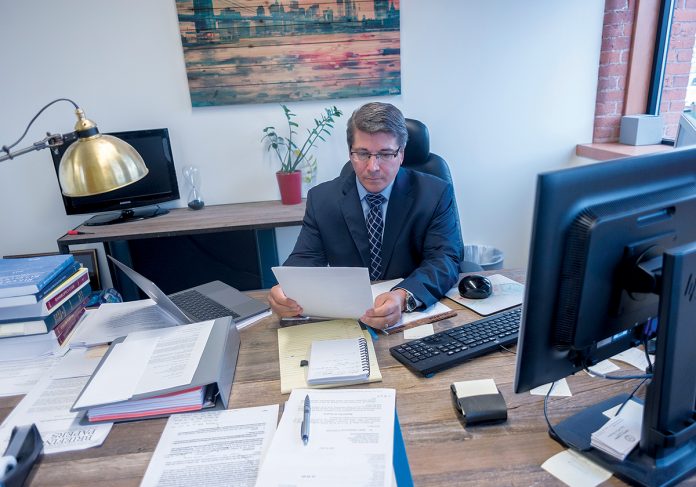 PROVIDENCE – The receiver for the St. Joseph's Retirement Benefit Fund, Stephen Del Sesto, a partner at Pierce Atwood LLC, has applied to have the plan covered by the Employee Retirement Income Security Act under the federal Pension Benefit Guaranty Corp.
More than 2,700 current and former workers at St. Joseph's Hospital and Our Lady of Fatima Hospital were affected by the retirement Plan's funding problems.
Del Sesto filed to the U.S. Department of Labor, the Internal Revenue Service and the PBGC on April 15. The request is to have the application effective retroactively to July 1, 2017. He told PBN Friday the move is unprecedented, in that a distressed plan that was exempt from ERISA requirements has never elected to go under ERISA before (because the St. Joseph's plan was under a special exemption from ERISA requirements as a "Church Plan," according Del Sesto's filing).
Plans under financial distress covered by the PBGC are paid up to a limit per participant. The premium for the PBGC was slightly over $1.35 million, according to Del Sesto.
As to what will happen, he said "I have no idea, no one has tried to do what we have done." He did note that he has been working with advisers that have intimate knowledge of the federal benefit programs.
Del Sesto is currently engaged in a legal battle with the plan's originators, arguing that the plan was misrepresented as a church plan and never should have been exempt at all. However, he noted that if his election to be under ERISA standards is accepted, the designation would apply from July 1 on.
The move, if approved, could potentially pay up to $67,000 per participant., but Del Sesto said that such an outcome would be a "home run" scenario. Del Sesto said that if the move couldn't be approved fully, he hopes to negotiate benefits for the plan.
All three filings would have to be approved and there is no set timeline for decisions from the DOL, IRS or the PBGC. Del Sesto said that the ongoing litigation regarding the plan could force the issue.
Del Sesto said that since the move has no precedent, he is not certain what the move will do. He noted that the move won't hurt the plan and could only benefit those under it. He does not expect it to impact claims in federal litigation.
Del Sesto said that he made the election because he thought it was "necessary and appropriate for the plan."
Chris Bergenheim is the PBN web editor. You may reach him at Bergenheim@PBN.com.