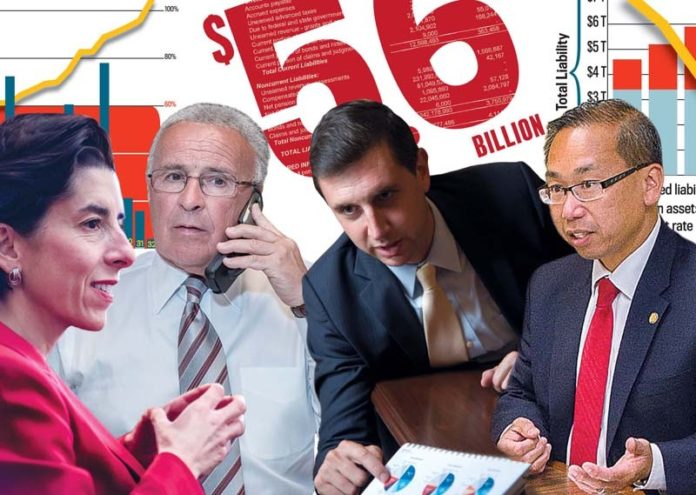 If the state's public officials want to make a real difference in Rhode Island's future, they should spend less time on getting to the bottom of the 38 Studios mess and more, a lot more, on the looming public-finance meltdown over unfunded liabilities for local pensions and other post-employment benefits (also known as OPEBs).
As eye-opening – and frightening – as Providence Business News' four-part series on the crisis that is municipal retirement benefits in the state is, what is even more astounding is the apparent lack of urgency to bring the problem under control.
Gov. Gina M. Raimondo (and to a lesser extent, former governors Lincoln D. Chafee and Donald L. Carcieri) have been rightly praised for pushing state worker pension reform through the General Assembly and then standing strong in the face of court challenges.
A much bigger issue is the $5.6 billion unfunded promises to current municipal workers for their pensions and OPEBs (which are mainly health care). And as scary as that figure it, it likely is not the full amount, since a large proportion of that number is derived from reports that are at least 3 years old.
It is logical to ask, what can the state do to bring about local reform? The answer is twofold. First, it must make a data-driven case that change is needed. Gov. Raimondo, as the general treasurer in 2011, showed clearly that without pension reform, yearly payments to cover pension costs would soon overtake many state budget items, essentially locking the state into a fiscal death spiral. That effort has started but it must take a much higher profile.
Second, the state must take the lead in forcing cities and towns and their workers to sit down and come to grips with the issue and find solutions that work. Yes, the solution will have to involve the scaling back of benefits already promised and being received. But it also will involve making smart decisions by elected officials in the future. For instance, when Johnston received a $3 million settlement to a lawsuit, Mayor Joseph M. Polisena did not make a payment to the extremely underfunded pension plan. Rather, the town built a new high school athletic complex, named for the mayor himself. Decisions like this make a Central Falls solution – that is, bankruptcy – far more likely. And that is not the end game that hard-working, public-sector employees or the taxpayers responsible for their salaries should want. •